Graduate Fog passes evidence of possible minimum wage infractions to HM Revenue and Customs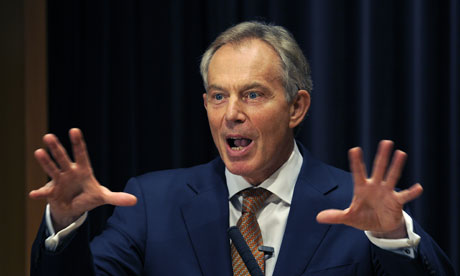 Tony Blair
's private office may face investigation by tax authorities for breach of national
minimum wage
laws over the use of unpaid interns.
The
Office of Tony Blair
, which helps administrate the former prime minister's consultancy and diplomatic interests, confirmed that despite its non-charitable status it uses unpaid interns for three months at a time.
Evidence of possible minimum wage infractions, gathered by the careers website
Graduate Fog
has been passed to HM Revenue and Customs (HMRC).
This includes an email from Blair's office setting out tasks which interns are expected to undertake during the full time role, including answering phones, managing meeting rooms and sorting and sending the post.
Recent employment tribunal rulings
have used evidence such as set tasks and responsibilities as one way to
differentiate between volunteer and paid worker status
.
In a statement to the Guardian, Blair's office said that all its interns were volunteers and that they supported them by paying travel and lunch expenses.
One would-be intern has complained that
despite passing an interview process, which included a timed 90 minute exam, he was rejected by the office because he was unable to work unpaid for the full five days.
When the graduate asked office staff if he could reduce his time from four to five days a week so he could continue to support himself financially with a part-time job, Blair's office eventually wrote back to say the position had been filled by another intern.
Writing to confirm that "four days a week availability did not suit your needs" office staff replied: "Sorry for not getting back to you sooner but the role has now been filled by someone who was available for the full 5 days."
Speaking to the Guardian, the 22-year-old, who did not want to be named, said: "From what I can tell, they are trying to staff the office with that classic, rotate your interns; get the interns to do the office admin, don't pay them a thing and, after three months, kick them out and get someone else in. That's what it sounded like to me."
"Through the minimum wage legislation," he said, Blair "had given people, young people especially ... a decent wage. But he's not even providing it for his own business. It's completely outrageous. I can't think of anything more two-faced to be honest."
Blair, who has made millions since departing as prime minister in 2007, operates numerous charities, diplomatic initiatives and business consultancies including Tony Blair Associates.
After an interview with Blair this summer, the
Financial Times estimated his annual income at £20m
.
It is understood that he continues to draw on a public allowance worth £110,000 per annum to support his good works and a prime ministerial pension of £70,000.
HMRC said they were unable to specifically comment on individual cases but gave a statement confirming they always act on allegations passed to them.
"We ensure that employers comply with the national minimum wage rules across the board. Where we have reason to believe the rules are being abused we will investigate. We always act on allegations of NMW abuse."
In a statement Blair's office said they value their interns "very highly".
"The Office of Tony Blair is not a charity," they confirmed. "Each internship lasts for around three months and is designed to give young people valuable experience in a high profile and fast moving work environment," they said adding, "our interns are volunteers."
A spokesperson for the London School of Economics, who previously advertised unpaid internships for Blair's profit making businesses, said
they no longer do so
.
"LSE is fully compliant with its legal obligations in relation to internships; furthermore we support the advice on internships issued by the UCU and NUS in 2011.
"LSE Careers is not advertising opportunities of any kind in the office of Tony Blair or with Tony Blair Associates and does not work with any third parties that facilitate unpaid internships."
Tanya de Grunwald, founder of Graduate Fog said: "Too many employers have convinced themselves that experience, plus a few quid for a sandwich and the bus fare, is an acceptable form of payment – we just never expected one of those employers to be the man who introduced the minimum wage law.
"Perhaps hanging out with some of the richest people on the planet has made it hard for Blair to remember how it feels to struggle to make ends meet every month on a meagre wage. What's more, for a man so obsessed with his legacy, it is astonishing that he seems to have 'sold out' over one of the few things he is remembered fondly for."