Alan Bull in The Guardian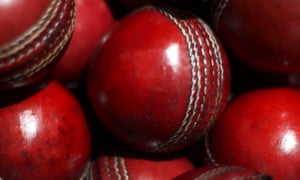 If the ECB wants to demonstrate how serious it is about tackling spot-fixing there are better ways to do it than shouting down the people who are presenting the evidence.



Seems like it was Mark Wood's bad luck to draw a short straw last week. The day after al-Jazeera released the second part of their investigation into spot-fixing in cricket Wood was put up to talk to the press. He said the accusations reminded him of "the boy who cried wolf". Maybe Wood always used to fall asleep before his parents made it to the end of the book. Right now, five months after the first part of al-Jazeera's expose, we are still waiting to see whether the danger they are shouting about really exists, but Wood, like everyone else in English cricket, will hope this story does not end with everyone looking the other way while the wolf eats up the sheep.

Al-Jazeera's second film was more grounded than the first. It's built around the fact that its source, Aneel Munawar, accurately forecast the score in 25 out of the 26 passages of play in 15 different international matches. Al-Jazeera says independent analysis shows the odds he could have done that by guesswork alone are 9.2m to one. The case is not perfect; the one big problem with it is al-Jazeera's lawyers do not seem to trust it enough to let its journalists release the names of the players involved. But there is enough evidence there now that the story should not be swiftly dismissed.

Which, unfortunately, seems to be what some of the authorities want to do. The England and Wales Cricket Board said al-Jazeera's information was "poorly prepared and lacks clarity and corroboration". The tone of its response was all wrong. If the ECB wants to demonstrate how serious it is about tackling spot-fixing there are better ways to do it than shouting down the people who are presenting the evidence. The ECB's statement seemed to put it on the other side of this problem to the journalists working to expose it. Since then the conversation around the investigation has turned into a slanging match about which side is more credible than the other.

Al-Jazeera did not help by throwing back blows of its own. "The ICC, together with certain national cricket boards and their supporters in the media, has reacted to our documentary with dismissals and attacks on the messenger," it said. "We are particularly struck by what appears to be a refusal from certain quarters to even accept the possibility that players from Anglo-Saxon countries could have engaged in the activities exposed by our programme." That attitude may have been common once and there may still be lingering hints of it around now. But anyone who holds it is a fool.The Spin: sign up and get our weekly cricket email.

At this point the question is not whether people are spot-fixing cricket matches but who is doing it and how often. In the last 10 years bowlers, batsmen, and captains, umpires, coaches, groundstaff and administrators have been caught and banned for fixing, and they have come from England, India, Pakistan, Bangladesh, South Africa, Sri Lanka, New Zealand and Zimbabwe. You should not need any more evidence that this is a universal problem. But, if you do, Cricinfo published some last week. It was the story of a corrupt approach made to the Canadian wicketkeeper Hamza Tariq at the 2011 World Cup.

Tariq explains how a friend of a friend invited him out for drinks. The man was a cricketer, which is how they got to know each other. When they went out a second time the man brought three more friends along. They bought Tariq dinner and drinks, and offered, later in the evening, to fix him up with a woman. It was only later, after an officer from the ICC's Anti-Corruption Unit intervened, that Tariq realised they were grooming him. Tariq was a fringe player from an associate team but last I looked the weaknesses those fixers were trying to identify and exploit – fondness for drink, money, sex – are pretty common in countries where they play Test cricket, too.

That 2011 World Cup, it seems now, fell right in the middle of an era when spot-fixing was rife. Mohammad Amir, Salman Butt, Mohammad Asif, Mervyn Westfield, Lou Vincent, Danish Kaneria: all those cases happened in 2010 and 2011. It was also around that time, al-Jazeera says, that Munawar first became involved in fixing.

It also says the ICC has known about Munawar ever since, which is one reason why it is reluctant to hand over all the information it has but would prefer to give it to Interpol instead. "We have become increasingly concerned at the ICC's ability and resolve to police the game."

It is not the only one to say this. Remember, Brendon McCullum criticised the ACU's "very casual approach" in 2016. The head of the ACU, Alex Marshall, argues the unit is much stronger now and the sport has never invested so many resources in fighting corruption. But then, at the same time Marshall is saying that, the Pakistan Cricket Board has appointed Wasim Akram to its new cricket committee. Akram, you may remember, was one of a number of cricketers investigated by the Qayyum report into fixing in the 1990s. The Qayyum report concluded he "cannot be said to be above suspicion".

The PCB chairman, Ehsan Mani, was able to justify the appointment by arguing that other players who were named in the Qayyum report were allowed to carry on working in international cricket. And he is right. One of them, Mushtaq Ahmed, was England's spin-bowling coach for years, even though Qayyum concluded "there are suffici
ent grounds to cast strong doubt" on him, too.
At this point indignant words do not do much to demonstrate anyone's commitment to taking the problem seriously enough.