Catherine Bennett in The Guardian

The Patisserie Valerie chief should look to himself before lecturing others again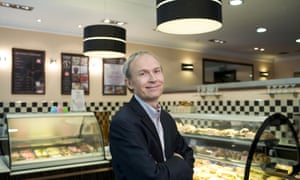 Self-styled 'risk-taker' Luke Johnson at a branch of Patisserie Valerie in London.




'Unfortunately," Luke Johnson wrote recently, "financial illiteracy permeates society from top to bottom. Too many ordinary people do not understand mortgages, pensions, insurance, loans or investing."

Johnson, the entrepreneur whose biggest asset, Patisserie Valerie, now needs bailing out, was being generous. Even after the 2008 financial crisis confirmed that corporate incompetence warranted unwavering public scrutiny, too many ordinary people remain equally ignorant about the operations and capabilities of business leaders, even those, like Mr Johnson, whose influence extends far beyond his imperilled patisserie company.

Some of us, inexcusably, even struggle with the basic jargon of "black hole". As in: "The owner of Patisserie Valerie has been plunged into financial crisis after it revealed a multimillion pound accounting black hole." Is it the same sort of black hole that astonished managers at Carillion, following a "deterioration in cashflows"? Or an industry synonym for the "material shortfall" disclosed by the Patisserie Valerie board, "between the reported financial status and the current financial status of the business".

Either way, does the black hole's existence mean that Mr Johnson must also be financially illiterate? Or is that question better addressed to Patisserie Valerie's finance chief, Chris Marsh, with whom Johnson has worked since 2006? Marsh was arrested by the police, then released on bail.

Regrettably, at the very moment when an ordinary person struggles to comprehend how £28m in May became minus £10m by October, and why one creditor, the HMRC, should be pursuing an unpaid tax bill of £1.4m – and what that tells us about the company's leadership – it appears that Mr Johnson is taking a break from his weekly newspaper column. Its absence is the more acute, now that its author, expert on subjects such as red tape, Brexit and other people's incompetence, has also fallen silent on Twitter; and his popular personal website seems, at the time of writing, to have vanished. With luck, it won't be too long before he is sharing details of his mercy dash on Evan Davis's The Bottom Line: "Providing insight into business from the people at the top."
Happily, as others have noted, some of Mr Johnson's earlier columns have addressed related issues such as, recently, "a business beginner's guide to tried and tested swindles". Watch out, he warns, for non-payment of creditors, dodgy advisers and attempts to overcomplicate things, so as to baffle the many people – unlike himself – who "do not understand the technicalities of investing or accounting".

Inevitably, that widespread ignorance makes it hard to judge how much of Johnson's wide-ranging, pre-existing advice, which has recently focused on Brexit, we can safely discard as, if not consistently hilarious, worthless. His chairmanship of Patisserie Valerie has, after all, repeatedly been cited, in the same way as Dyson's profits and Tim Martin's pubs, as the main reason to listen to him deprecate the EU, with his own achievements (pre-black hole), proving that "this is a great country in which to do business and prosper".

Although Johnson is no different from other business celebrities, such as Dyson, Branson and Trump, in having parlayed business success into guru status, he has, more unusually, further set himself up as a kind of entrepreneur-moralist, with a biblical line in rebukes. Here he is, against – I think – overpaid government regulators: "Political leaders who want to foster world-beating companies must act decisively and, as with any transformation, slash off the gangrenous limbs without mercy." Critics of rich people are warned: "Envy is a ruinous trait – as well as one of the deadly sins – and a sordid national characteristic."

Like any half-decent moralist, he alternates rants with hints for personal salvation, through thrift, reliability and, again, financial literacy: "I am surprised how many senior managers I meet cannot read a cashflow statement."

By way of authority, even Johnson's less scorching capitalist homilies are littered with references to the usual suspects – Napoleon, Samuel Smiles and Marcus Aurelius – less usually, the scriptures and "the 19th-century philosopher Herbert Spencer", not forgetting, shamelessly, Ayn Rand. "Those who possess willpower," Johnson echoes, "seize the day and actively control their destiny." Less gifted individuals are dismissed as lazy idiots, fools, inferiors who will never get the chance to close down a chain of well-regarded bookshops or, as now, bail out their own patisseries.

That Johnson should, on the back of this stuff, and the cake shops, have risen to yet greater prominence as a notable Vote Leave backer, his blessing sought by Theresa May, is perhaps no more absurd than, earlier, was David Cameron's promotion of the Topshop brute, Philip Green, or elevation of JCB's Anthony Bamford (previously fined by the EU). The myth of the disinterested entrepreneur-consultant seems ineradicable.

In Brexit, Johnson and his like-minded entrepreneurs have, however, discovered a yet more rewarding platform on which to portray their regulation-averse interests as a purely patriotic project.

Entrepreneurs, Johnson has written, on this favourite subject, are "the anarchists of the business world. Their mission is to overthrow the existing order." Every entrepreneur is "a disruptor and a libertarian", or would be "if the state sets a sensible framework and gets out of the way". He explains that the word "chancer" properly describes risk-takers like him, who are willing to make mistakes, probably through excessive impetuosity, or as others might think of it, recklessness. "Probably the most common and devastating mistake I've made," he wrote, "is to choose the wrong business partners." As for abiding by the rules of the game: "It is the nature of risk-takers to be in a ferocious hurry to become successful, which frequently means cutting corners."

Thus, even before last week's disclosures about Patisserie Valerie, Johnson's own columns amounted to the best possible case for ignoring the entrepreneur lobby on Brexit – indeed, on every subject other than their own, risk-taking genius.