Sunday, 29 December 2013


P. SAINATH in the hindu
What if a class-action suit came up in the U.S. courts on the ripping-off of Indian domestic workers there? That fear drives the government's outraged response to Devyani Khobragade's arrest
In the Devyani Khobragade drama, the media have largely focussed on two themes and stoked wounded national pride around those. One: the outrageous manner of the arrest of the Indian consular official. Two, the perfidy of the United States. Of the latter, there has been plenty in the past few years. But you barely saw a whimper of anti-U.S. sentiment in the mainstream media. It took the Khobragade case to produce that. She has been charged in New York with visa fraud and illegally underpaying her domestic help and housekeeper Sangeeta Richard (who is also an Indian citizen). Both the human story and the U.S.-bully story are easily told, and indeed have been, many times over these past few days. With the crude bungling of her arrest, and the harsh manner of it, the U.S. has raised Indian hackles. And, of course, we've had yet another display of U.S. double standards on diplomatic immunity.
Incidents and Indian reaction
What's been an intriguing and no less riveting a story, is the high-voltage response of the Indian government. The rage and fury it has displayed. None of which was seen in many other cases that cried out for a much stronger response to U.S. wrongdoing. The Edward Snowden revelations earlier this year showed India to be one of the biggest targets of electronic espionage by the National Security Agency (NSA) of the U.S. Yes, ahead of even Russia and China.
The scope of the damage done to us has still barely been explored. We know the Indian Mission to the United Nations was, and perhaps still is, bugged. We know that the G-20 meeting in London that Prime Minister Manmohan Singh went to in 2010 was also bugged. The latter, by the Government Communications Headquarters (GCHQ), the NSA's British sibling.
Brazil, less affected than India, saw President Dilma Rousseff cancel a state visit to America. An angry Ms. Rousseff sought an apology and an end to digital snooping. She also launched a scathing attack on U.S. spying, in a speech at the United Nations this September. India said and did nothing. Though an American judge did, saying the NSA's mass surveillance was most likely illegal even within the U.S. Our supine silence meant that Dr. Singh's own trip to the U.S. went off without a glitch.
There was no flurry of angry statements from top officials when a U.S. Navy ship fired on a small fishing boat off Dubai in July last year. The USNS Rappahannock opened fire, killing one Indian fisherman and wounding three. All four — in a total crew of six — were from Ramanathapuram in Tamil Nadu. The survivors said they had no signal, warning or inkling of an attack.
The Indian Ambassador to the UAE told Reuters at the time: "Obviously if they were warned they would not go close to such a big vessel. Even if shots were fired in the air, these fishermen would have moved away." After a day or two of reports in the media, the story sank in silence. We saw no furious External Affairs Minister blasting the U.S. Nor a Parliamentary Affairs Minister saying: "A regret for the sake of formality is not enough. They should apologise in unambiguous terms and accept their mistake." All of that was reserved for the present dispute. Wrongly jailed Indian sailors in Togo waited months for their government to act. One of them is yet to be released. In the Devyani case, India was on the attack from day one.
Many mighty Indians have been through humiliating pat-downs and checks at airports in the U.S. That includes former Presidents of this country, serving Ambassadors to the U.S., and others. George Fernandes while Defence Minister was twice subjected to intrusive searches. One of these was described by a former U.S. Deputy Secretary of State as a "strip search." It's even happened, horror of horrors, to Bollywood's brightest and best. But none of these instances drew a response like the one we saw over Ms. Khobragade.
Why? Because the charges levelled against her might well apply to a very large number of our embassy and consular staff? And not just in New York? Imagine the embarrassment ahead if this prosecution were to extend to the rest of the fraternity. After all, the domestic help who have been ripped off are also Indian citizens. What if some group clubbed together a raft of such cases and brought something like a class-action suit in American courts? It would be quite logical. And it could cost the government of India millions of dollars.
Issue of underpayment
Those voices raising the issues of labour and exploitation in the Devyani case have found very limited space in the media. Unions and activists speaking for domestic workers have had things to say, but they mostly go unheard.
To date India has not ratified the ILO's Domestic Workers Convention 2011 (189).
It could be that the full truth of the Devyani case itself is yet to emerge.
But the underpayment and ill-treatment of domestic help by Indians is routine and obnoxious. In the U.S. and elsewhere. Indeed, in New York groups sprang up in the 1990s to organise such workers and defend them against inhuman treatment. That's a whole set of stories in itself. Indian domestic workers are often brought into the U.S. by their employers as 'family members.' On arrival, some have their passports confiscated by their 'family.' That ensures they cannot run and cannot hide. Some of these workers have remained locked up in apartments or houses for weeks while their 'family' goes on vacation, leaving them with meagre rations.
This is not the first time the American legal machinery has moved on such a case. The other instances have been no less shameful. Here, though, if the prosecutors proceed against all offenders, a much greater fraternity stands threatened. Hence, "a regret for the sake of formality is not enough." The Indian government wants the proceedings dropped altogether.
U
nder-payment is another story. This is the most dreary, routine practice within India. And not just with domestic workers. There are several private colleges in the country, for instance, which employ lecturers ostensibly at UGC scales. All the paperwork, including the payslips they sign, show them getting UGC-scale salaries. In truth, they get a fraction of that. But this is accepted as 'normal.' People getting ripped off by manpower export sharks is also seen as 'normal.' And some of the Gulf states have found it convenient to go along with this for decades.
So, when one prosecutor in a foreign land does not accept such conduct as normal, there's panic. More so since it affects an elite Indian service.
All we did was to extend good old Indian elite tradition, or parampara, abroad. How dare anyone challenge that?
The India-U.S. nuclear deal demands media scrutiny. And indeed, governmental action. To date, India has got very little of what it signed up for. But where are the angry responses and demands for restitution? Indeed, the U.S. government has demanded we change our liability laws if we want it to deliver on that deal. All that the government of India is asking for in the Khobragade matter is a dropping of charges. The Americans want us to change our very laws. Even those tested and upheld in our Supreme Court. More recently in Bali, we celebrated a 'victory' that 'benefits everyone,' over a deal that does little for food security now, while trading away quite a bit of it in the future. Again: a marked lack of toughness in response. No cries of conspiracy. Not even what would have been valid charges of extortion. The list is endless.
But there's an amazing level of protest on a case involving — on the surface — a single consular official. It is possible that there's much going on in the background we don't know about. Yet, even as Ms. Khobragade's problems in the U.S. are far from over, others confront her in India. She is named in the Commission report on the Adarsh scam. She figures in it as one among several ineligible persons who got a flat in the Adarsh building.
With the U.S. rejecting the demand to drop charges against Ms. Khobragade, things will get tricky. This is indeed an issue of principles, not of the individual Ms. Khobragade. But any coming face-off, if one occurs at all, won't be on any of the issues
we need to confront
the U.S. on.
Merely on our fundamental right to rip off our servants and exploit labour.
Friday, 27 December 2013


Followers, in thrall to Harrods and Downton Abbey, repeat the mantra that the greed of a few means prosperity for all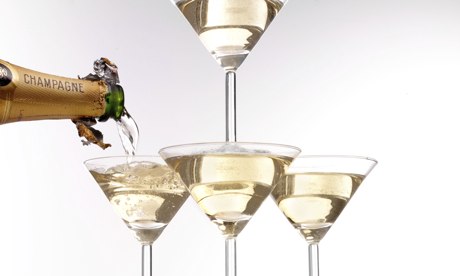 The rich are not merely different: they've become a cult which drafts us as members. We are invited to deceive ourselves into believing we are playing for the same stakes while worshipping the same ideals, a process labelled "aspiration". Reaching its zenith at this time of year, our participation in cult rituals – buy, consume, accumulate beyond need – helps mute our criticism and diffuse anger at systemic exploitation. That's why we buy into the notion that a
£20 Zara necklace worn by the Duchess of Cambridge
on a designer gown costing thousands of pounds is evidence that she is like us. We hear that the monarch
begrudges police officers who guard her family and her palaces a handful of cashew nuts
and interpret it as eccentricity rather than an apt metaphor for the
Dickensian meanness of spirit
that underlies the selective concentration of wealth. The adulation of royalty is not a harmless anachronism; it is calculated totem worship that only entrenches the bizarre notion that some people are rich simply because they are more deserving but somehow they are still just like us.
Cults rely on spectacles of opulence intended to stoke an obsessive veneration for riches. The
Rich Kids of Instagram
who showed us what the "unapologetically uber-rich" can do because they have "more money than you" will find further fame in a novel and a reality show. Beyond the sumptuous lifestyle spreads in glossies or the gift-strewn shop windows at Harrods and Selfridges, and Gwyneth Paltrow's
Goop website
, shows like Downton Abbey keep us in thrall to the idea of moolah, mansions and autocratic power. They help us forget that
wealthy British landowners, including the Queen, get millions of pounds in farming subsidies
while the rest of us take back to the modest homes, which we probably don't own, lower salaries and slashed pensions. Transfixed by courtroom dramas involving people who can spend a small family's living income on flower arrangements,
we don't ask why inherited wealth is rewarded by more revenue but tough manual labour or care work by low wages.
Cue the predictable charge of "class envy" or what Boris Johnson dismisses as "
bashing or moaning or preaching or bitching
". Issued by its high priests, this brand of condemnation is integral to the cult of the rich.
We must repeat the mantra that the greed of a few means prosperity for all.
Those who stick to writ and offer humble thanks to the acquisitive are contradictorily assured by mansion-dwellers that money does not buy happiness and that electric blankets can replace central heating. Enter "austerity chic" wherein celebrity footballers are hailed for the odd Poundland foray, millionaire property pundits teach us how to "make do" with handmade home projects and celebrity chefs demonstrate how to "save" on ingredients – after we've purchased their money-spinning books, of course.
Cultish thinking means that the stupendously rich who throw small slivers of their fortunes at charity, or merely grace lavish fundraisers – like Prince William's
Winter Whites gala for the homeless
at his taxpayer-funded Kensington Palace home – with their presence, become instant saints.
The poor and the less well-off, subject to austerity and exploitation, their "excesses" constantly policed and criminalised, are turned into objects of patronage,
grateful canvasses against which the generosity of wealth can be stirringly displayed. The cult of the rich propounds the idea that vast economic inequalities are both natural and just: the winner who takes most is, like any cult hero, just more intelligent and deserving, even when inherited affluence gives them a head start.
We are mildly baffled rather than galvanised into righteous indignation when told that the rich are being persecuted – bullied for taxes and lynched for bonuses. The demonising of the poor is the flip side of the cult of the rich or, as a friend puts it, together they comprise the yin and yang of maintaining a dismal status quo. It is time to change it through reality checks, not reality shows.
To move many away from religion, atheism has to weave itself into the social fabric and shed its image of dour grumpiness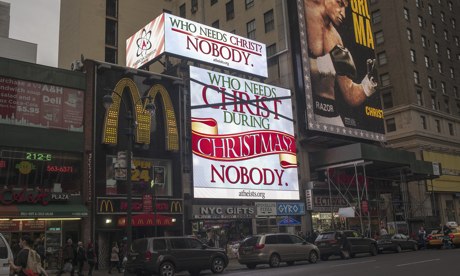 The last time I put my own atheism through the spin cycle rather than simply wiping it clean was when I wanted to make a ceremony after the birth of my third child. Would it be a blessing? From who? What does the common notion of a new baby as a gift mean? How would we make it meaningful to the people we invited who were from different faiths? And, importantly, what would it look like?
One of the problems I have with the New Atheism is that it fixates on ethics, ignoring aesthetics at its peril
. It tends also towards atomisation, relying on abstracts such as "civic law" to conjure a collective experience. But I love ritual, because it is through ritual that we remake and strengthen our social bonds. As I write, down the road there is a memorial being held for Lou Reed, hosted by the local Unitarian church. Most people there will have no belief in God but will feel glad to be part of a shared appreciation of a man whose god was rock'n'roll.
When it came to making a ceremony,
I really did not want the austerity of some humanist events I have attended, where I feel the sensual world is rejected.
This is what I mean about aesthetics. Do we cede them to the religious and just look like a bunch of Calvinists?
I found myself turning to flowers, flames and incense. Is there anything more beautiful than the offerings made all over the world, of tiny flames and blossom on leaves floating on water?
Already, I am revealing a kind of neo-paganism that hardcore rationalist will find unacceptable. But they find most human things unacceptable. For me, not believing in God does not mean one has to forgo poetry, magic, the chaos of ritual, the remaking of shared bonds. I fear ultra-orthodox atheism has come to resemble a rigid and patriarchal faith itself.
This is not about reclaiming "feeling" as female and reason as male. Put simply,
it seems to be fundamentally human to seek narratives, find patterns and create rituals to include others in the meanings we make. If we want a more secular society – and we most certainly do – there is nothing wrong with making it look and feel good.
Yet as I attend yet another overpoweringly religious funeral of a woman who was not religious – as I did recently – I see that people do not know what else to do. They turn to organised religion's hatch 'em, match 'em and dispatch 'em certainties. For while humanists work hard to create new ceremonies, many find them vapid. Funerals are problematic, as one is bound by law to dispose of the body in a certain way. I always remember the startled look of the platitudinous young vicar who visited our house after my grandad died, when my mum said, "Don't come round here with your mumbo-jumbo. If I had my way I'd put him in the vegetable patch with some lime on him."
Unless someone has planned their own funeral it can be difficult, but naming or partnership ceremonies are a chance to think about what it is we are celebrating. A new person, love, being part of a community. For my daughter's, we pieced together what we wanted, but I found some of the humanist suggestions strange. "Odd parents" for godparents? No thanks. I guess it's just a matter of taste.
What, then, makes ceremony powerful? It is the recognition of common humanity; and it is very hard to do this without borrowing from traditional symbols.
We need to create a space outside of everyday life to do this. We can call it sacred space but the demarcation of special times or spaces is not the prerogative only of the religious. One of the best ceremonies of late was the opening of the Olympics, where Danny Boyle created a massive spectacle that communicated shared values in a non-religious way. It was big-budget joy. Most of us don't have such a budget but there has to be some nuance here. We may not have God.
We may find the fuzziness of new age thinking with its emphasis on "nature" and "spirit" impure, but to dismiss the human need to express transcendence and connection with others as stupid is itself stupid.
Our ceremony had flowers and fires and Dylan, a Baptist minister and the Jabberwocky, half-Mexican siblings and symbols, a Catholic grandparent reading her prayer, a Muslim godparent and kids off their heads on helium at the party. A right old mishmash, then, but our mishmash.
In saying this I realise I am not a good atheist. Rather like mothering, perhaps I can only be a good enough one.
But to move many away from religion, a viable atheism has to weave itself into the social fabric and shed this image of dour grumpiness. What can be richer than the celebration of our common humanity? Here is magic, colour, poetry. Life.
China cancels plans for Mao's 120th but in one village, his spirit lives on
Communist party in rethink on television series and celebration, but
last commune remains a shrine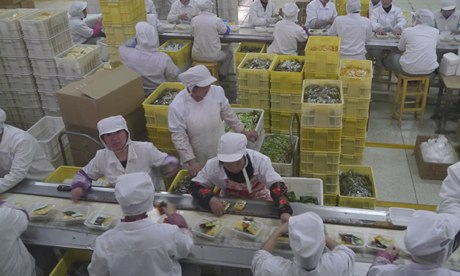 The day begins at 6.15am, as The East Is Red blasts through the speakers and echoes down the wide, empty streets, past the blazingly white statue of Chairman Mao, his right hand aloft in perpetual salute.
It ends at dusk with the closing refrain of another revolutionary classic: "The socialist society will surely succeed! A communist society will surely be achieved!"
Nanjiecun is as close as anywhere in China comes to fulfilling that pledge: a commune in a land that long ago embraced capitalism.
Land is still farmed collectively. Its 10,000 inhabitants spend food tokens in public grocery stores. Inside the gates, the clatter and clamour of modern life vanishes; exhortations from the Great Helmsman replace advertising slogans. Each home, provided by the government, has the same furniture – down to its electronic Mao calendar.
As China celebrates the 120th anniversary of Mao Zedong's birth this week, Nanjiecun officials believe him as relevant as ever.
"Only Chairman Mao thought can lead to common wealth," explained Wang Hongbin, the party secretary. "Although he has left us, we hope his spirit is immortal."
At its height, Mao's influence was felt not only in Asia but across Africa and in the bourgeois west. In Paris, student radicals waved their
Little Red Books
. The British left was less enthused, but when police arrested a man and woman in London last month on suspicion of slavery, it emerged that the roots of the case lay in a Maoist sect founded in the 70s.
"There was great variety in what people read into Maoism," said Julia Lovell of Birkbeck, University of London, who is writing a book on its global legacy.
"Some saw him as the heir to Stalin; a doctrinaire Communist leader. Others ran with the idea of Mao as an anarchic democrat; as a guerrilla leader; as a man of the people but also a philosopher and poet. You have this strange contradiction: admiration for him as a proletarian, but also as a cultured intellectual."
At home in China, Mao's portrait hangs in Tiananmen Square and his face gazes from banknotes. His birthplace, Shaoshan, has spent 15.5bn yuan (£1.56bn) on tourism projects.
Since becoming leader in 2012, Xi Jinping has consciously embraced some Mao-style tactics, such as holding televised "criticism and self-criticism" sessions, for people to highlight others' faults, and confess their own. But he has also said
anniversary celebrations
should be simple and pragmatic. A TV series on Mao has been dropped and a birthday concert rebranded as a new year gala.
Officials celebrate an icon of national revival and Communist party rule, rather than the revolutionary whose thinking was described as a "spiritual atom bomb".
Yet his promise of economic equality has renewed appeal in a country beset by corruption, injustice and a gulf between rich and poor
, as the popularity of Bo Xilai's quasi-Maoist platform proved before the Chongqing party secretary's downfall last year.
With its dated atmosphere, quiet streets, wholesome ethos and street-corner Tannoys, Nanjiecun is uncannily reminiscent of the 60s TV show The Prisoner: a staged, self-contained world out of place and time.
To Fan Jinggang, who manages Utopia, the Beijing bookstore known as a centre of modern Maoism, it is not an anomaly but an inspiration.
"If all villages in China took Nanjiecun's path, farmers' rights would be guaranteed and living standards would be higher than now," said Fan. "You would not see so many farmers exploited in cities. They would not be discriminated against … The rights of the proletariat would be guaranteed and the polarisation between rich and poor would not happen."
Many of the social ills he lists are also cited by the liberals he denigrates: environmental degradation, wasted resources, corruption, social discontent.
But his diagnosis is wholly different: "The transformation of the Communist party is the root of all problems in China," he said. "The rebels, to a large degree, have kidnapped the Communist party and the republic."
Current plans for reform suggest a further embrace of privatisation and marketisation, which he warned would intensify economic polarisation and social instability.
Fan points to the successes of Mao's reign: then, life expectancy soared from 35 to 68 years, workers were respected politically, and there were warmer relations between cadres and the people.
"History has proven that Chairman Mao's thought is the truth," he said.
But others remember him as the man whose leadership caused tens of millions of deaths in the
Great Famine
and the chaos and violence of the
Cultural Revolution
. When China embraced reforms after his death, hundreds of millions climbed out of poverty.
It is impossible to know how many in China share Fan's views, but it is probably true that their numbers are easily underestimated. Many are poor, often old, and they lack connections and influence.
Utopia's website was closed after Bo's purge, although a sister site still publishes leftist content. Fan complained that he could not share his opinions freely, blaming neoliberalism among officials and in the media, which does not run leftist opinions, and which attacks individuals and their point of view, he said.
Still, neo-Maoists are more tolerated by authorities than those calling for multiparty elections. And while they complain of being silenced, they are frequently intolerant of other views. When the prominent economist Mao Yushi criticised Mao Zedong as a "backstage orchestrator who wrecked the country and brought ruin to the people",
leftists petitioned for his arrest
and threatened the 84-year-old with violence.
Nanjiecun's officials avoid this brand of harsh ideological rhetoric: they are confident in their sedate course.
"Because it's common wealth, we don't have big disparities between rich and poor … Living and working here, you don't have pressure, because the group will help you solve problems," said the party secretary, Wang.
"When people work together and are optimistic and active, that's a good atmosphere. People talk and laugh together."
When Nanjiecun land was decollectivised, local farmers simply handed it back. Fields are now tended by a team and a grain ration given to residents. Officials and workers are paid but also enjoy free water and power, free meals in canteens, and free medical care.
Despite reports of significant debt in 2008, officials insist the town is prospering. Nanjiecun promises security in a world of casual employment, scant social welfare and soaring property prices – which is why young people who have ventured out to China's busiest cities often opt to return.
Government-run factories do, however, include a joint venture with a Japanese noodle-maker. In theory, there are no private shops, but the staff of a grocery store seem surprised to learn this. And though labourers from outside contribute according to ability, they do not receive according to their need.
"Everyone wants to live in Nanjiecun, but it's hard to qualify," said 21-year-old Xiao Li, who works as a guide to the village but lives elsewhere.
Much of the Mao memorabilia, such as the full-size replicas of his former homes in the botanical gardens, seems aimed primarily at tourists. His statue was erected in 1993 and the giant portraits around it – Marx, Engels, Lenin and Stalin – went up the following decade.
Qi Hongyao, a local, had brought a visiting friend to admire the figure. But he was perplexed by the idea that Nanjiecun might be a model for other places.
"In the past, people never went outside and didn't know what life outside was like. In the past, people just wanted warm clothes and enough food. Now they have more, so they want more," he said. "You can't go back."