G4S's work in Saudi Arabia has sparked controversy. But where is the outcry over human rights as a new Mecca rises to service pilgrims?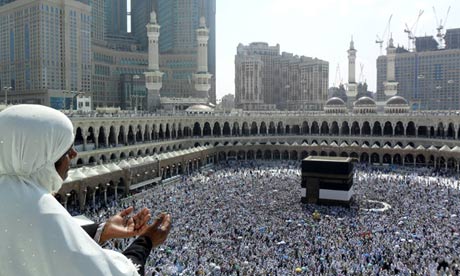 In light of the accusations about its activities in Israel, the company told a website that although it operates there, the structure and management of its work in Saudi Arabia is entirely different. A G4S spokesman also told Middle East Monitor: "Whilst we don't provide security directly for the pilgrims, we do provide security support for clients in Saudi that will require additional support during the hajj period."
But if Muslims feel aggrieved about human rights abuses and hajj, then perhaps they ought to take a look at what is happening under the shadow of the heavy machinery surrounding Mecca, for the skyscrapers and shopping malls of Islam's holiest city are not being built by pixies.
It may be that the very purpose of hajj makes it difficult for some to focus on the issues that the modern day pilgrimage raises. It reconnects Muslims with the religion's prophets; it represents purity, renewal, a reminder of the hereafter, unity, submission to Allah, piety, collective worship and humility. But hajj is also about equality, fraternity and justice.
While nobody is expecting banners to be unfurled in the courtyard of the Grand Mosque – although it would certainly liven up the annual television coverage – there is nothing to stop Muslims from at least asking deeper, difficult questions about the human cost of hajj.