Richard Garner in The Independent

Increasing numbers of teachers are boosting their pupils' predicted A-level grades to help them secure offers of places at Britain's top universities – which in turn are accepting more students who miss their targets, largely to increase their income.
Figures from Ucas, the university admissions body, show that 63 per cent of all candidates are now predicted to get at least an A and two B grades at A level – up 9 percentage points from four years ago.
Yet the data shows that only a fifth of those predicted to score ABB actually achieve those grades – a 40 per cent drop from just six years ago.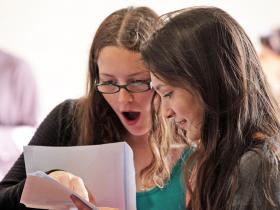 READ MORE
Students increasingly admitted to university without three A-levels
The ploy by teachers has been successful because growing numbers of universities are offering "discounts" on their conditional offers to prospective students when A-level results are released.
This is because the Government decision to lift the cap on the number of places universities can offer has increased competition among the institutions when it comes to signing up students.
However, many teachers still reckon they need to bump up their students' potential A-level grades to ensure they are noticed and are given a provisional offer by universities.
More than half of pupils accepted on predicted A-level results – 52 per cent – missed their conditional offer grades by one grade or two, another substantial rise on four years ago.
Senior academics say controversy over the issue could reignite calls to move to a system whereby pupils apply for their university places after they receive their A-level results.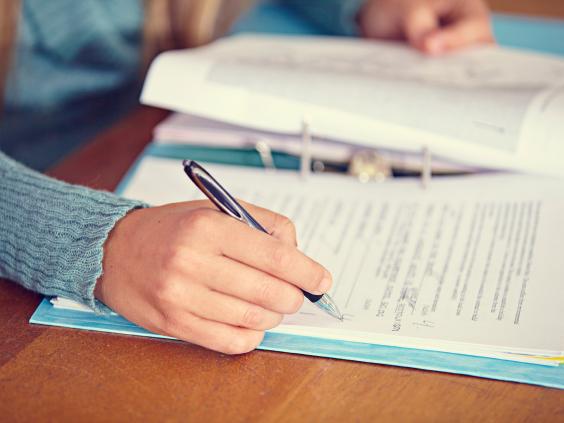 Many teachers believe they need to bump up their students' potential A-level grades to ensure they receive offers by universities (iStock)
The change was called for by a government inquiry headed by former Vice-Chancellor Steven Schwartz a decade ago but disappeared from the table when universities and schools could not agree to the changes necessary to the education calendar to implement it.

The new figures and the trend they highlight were disclosed by Mary Curnock Cook, chief executive of Ucas, at a conference at Wellington College on the future of higher education.


University admissions in numbers

63% of all candidates predicted to get at least an A and two B grades at A-levels
One in five actually achieve those grades
495,940 university applicants in England
52% of candidates accepted on predicted grades miss them by one grade or two
44% of students being admitted with three B grade passes or lower, compared with 20 per cent in 2011

Ms Curnock Cook said that, in discussions with teachers, she had asked: "Surely you wouldn't be over-predicting your students' grades last summer?" She told the conference: "I have teachers coming back to me saying: 'Actually, yes we would.'

"The offers are being discounted at confirmation time," said Ms Curnock Cook, referring to A-level results day. "It's been [caused by] the lifting of the number controls that has increased competition [amongst universities]."

"You have to hope you can unlock some latent talent [in those taken in with lower grades]," said one university source. "If you don't take them in, they could be snapped up by a rival and their reputation increases."

As well as lower-ranking institutions, high-tariff universities – those most selective in their intake – are also lowering their entry requirements, with 44 per cent of students being admitted with three B-grade passes or lower, compared with just 20 per cent in 2011.

Professor Michael Arthur, provost of University College London, said his university had dropped a grade in 9 per cent of admissions.

Many universities have seen huge rises in the numbers of students they are enrolling. Professor Arthur said the number of students at his university had soared from 24,000 six years ago to 37,500. Part of the increase was down to mergers with other bodies such as the Institute of Education – but at least half was due to a rise in student numbers.
However, the number of university applicants from England decreased on the previous year by 0.2 percentage points to 495,940, the new figures show. The number of 18-year-olds applying also fell by 2.2 per cent.

Overall the number of university applicants for this autumn has held steady – with 593,720 applicants (up 0.2 percentage points on last year) by the time of the January deadline. But the increase was down to a significant rise in applications from the EU – up 6 percentage points to 45,220.

The figures show that more disadvantaged pupils applied than ever before – up 5 percentage points in England, 2 in Scotland and 8 in Wales.

Ms Curnock Cook urged students to be "bold" in their Ucas applications and take advantage of the fact that leading universities were lowering their admissions criteria. Speakers at the conference said parental pressure was partly to blame for teachers upping predictions for their pupils.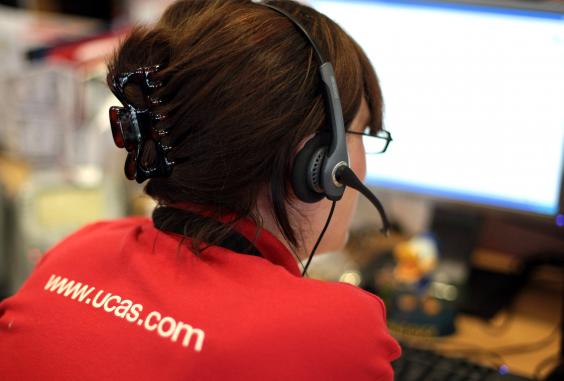 The UCAS clearing house call centre in Cheltenham (Getty Images)

Another teacher said that performance-related pay, which means teachers' salary increases depend on the results of their pupils – was leading them to predict higher grades.
"Performance-related pay and performance-related management play a part," they said. "It is why you have to be a little bit aspirational."
However, it was acknowledged this could be a double-edged sword – as failure to achieve the grades could result in teachers being penalised for failing to meet their targets.
Ms Curnock Cook also predicted that the number of students taking the A-level route to university would continue to drop over the next four years,
Last week Ucas showed that the number of students taking the vocational route through Btecs had almost doubled from 14 per cent in 2008 to 26 per cent last year. Predicted outcomes showed the number taking the traditional A-level route was likely to decline by 25,000 by 2020 – while the number with vocational qualifications would go up by 15,000.
A Department for Education spokesperson said: "We trust teachers to act in the best interests of their students by giving fair predicted A level grades that accurately reflect their ability.
"Distorting grades would be unfair on the pupils involved and could result in universities having to artificially inflate their entrance requirements, rendering it pointless in the long run."