Larry Elliott in The Guardian

Oil falls by $2 a barrel with energy shares as Opec refusal to stop flooding the market with cheap oil and likely US rate hike sends Brent crude tumbling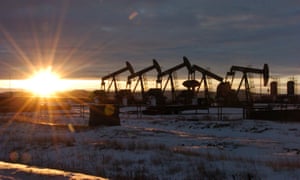 Oil rigs in western North Dakota, US. Opec plans not to cut output aims to kill off the threat from US shale oil by making it deeply unprofitable. Photograph: Matthew Brown/AP




Oil prices have slumped by 5% after the latest attempt by Saudi Arabia to kill off the threat from the US shale industry sent crude to its lowest level since the depths of the global recession almost seven years ago.

Signs of disarray in the Opec oil cartel prompted fears of a global glut of oil, wiping $2 off the price of a barrel of crude on Monday and leading to speculation that energy costs could continue tumbling over the coming weeks.

Shares in energy companies lost ground as the impact of the drop in oil prices rippled through European stock markets. Prices of other commodities also weakened following disappointment among traders that Opec had decided late last week to keep flooding the global market with cheap oil.

Iron ore continued its steady fall and finished the latest session at $38.90 per tonne, squeezing profit margins to the bone at even large producers such as Rio Tinto and BHP Billiton, whose shares fell sharply on the Australian stock market on Tuesday.

The consultancy Capital Economics tweeted: "#Oil sell-off after #OPEC makes even ECB look good. Better to have announced something, even if less than hoped for, than nothing at all..."

A barrel of benchmark Brent crude was changing hands for less than $41 a barrel in New York on Monday night after Opec – heavily influenced by Saudi Arabia – did nothing about a market already seen as saturated.

US light crude, which tends to trade at slightly lower levels than Brent, recorded similar falls, dropping from just over $40 a barrel to less than $38 a barrel.

Both Brent and US light crude were at levels not seen since early 2009, when the collapse of US investment bank Lehman Brothers triggered the most severe recession since the 1930s.

As recently as August 2014, Brent stood at $115 a barrel, but in 16 months its price has been more than halved in response to a slowdown in China and other emerging market economies, and the end of oil sanctions against Iran.

Global supply of oil is currently thought to be up to 2m barrels per day higher than demand, with traders fearing that Opec's refusal to cut production despite the financial pain it is causing its members' economies will lead to a still greater glut of crude. Venezuela, in particular, is thought to be suffering badly as a result of the drop in oil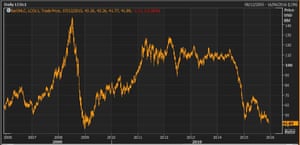 Brent crude, from 2005-2015. Photograph: Thomson Reuters

The fall, if sustained, will lead to lower inflation in oil-consuming nations through the knock-on effects on petrol, diesel, domestic energy prices and the cost of running businesses.

Lower crude prices may also delay or limit increases in interest rates. The Bank of England has already accepted that inflation – which stands at -0.1% – has stayed lower for longer this year than it anticipated.

Analysts believe the slide in oil prices has come too late to persuade the US Federal Reserve, America's central bank, to delay an increase in the cost of borrowing later this month, adding that the prospect of the first tightening of policy from the Fed since 2006 was an added factor in crude's decline.

The prospect of higher US interest rates has led to the value of the US dollar rising on foreign exchanges; since oil is priced in dollars that has led to a fall in the cost of crude.

Markets had been expecting Opec to announce a new ceiling on production after last Friday's meeting, but analysts at Barclays said the lack of any curbs in its announcement was a sign of discord.

"Past communiques have at least included statements to adhere, strictly adhere, or maintain output in line with the production target. This one glaringly did not," they said.

Saudi Arabia needs oil prices of $100 a barrel to balance its budget, but as the world's biggest exporter of crude it is gambling that the low price will knock out the threat posed by so-called unconventional supplies, such as shale.

The chief executive of Saudi Aramco, Amin Nasser, said at a conference in Doha on Monday that he hoped to see oil prices adjust at the beginning of next year as unconventional oil supplies start to decline.

In a sign that US production could dip, Baker Hughes' November data showed US rig count numbers down month-by-month by 31 to 760 rigs.

The fall in oil prices helped wipe almost 1% off share prices in New York. Wall Street's Dow Jones industrial average was down more than 160 points in early trading, with Chevron and Exxon both losing around 3% of their value.

In London, Shell's share price was down 4.5% while BP lost 3.4% of its value as early gains in the FTSE 100 were wiped out. The Index closed 15 points lower at 6223.