Moscow is handing cash to the Front National and others in order to exploit popular dissent against the European Union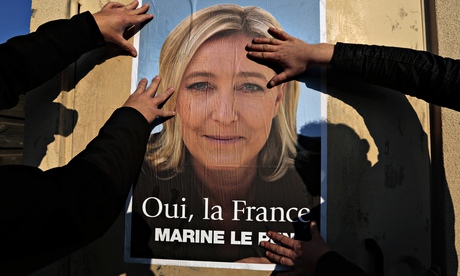 It sounds like a chapter from a cheesy spy novel: former KGB agent, chucked out of Britain in the 80s, lends a large sum of money to a far-right European party. His goal? To undermine the European Union and consolidate ties between Moscow and the future possible leader of pro-Kremlin France.
Kudimov is a former KGB agent turned banker with close links to the Kremlin and the network of big money around it.
Back in 1985 Kudimov was based in London. His cover story was that he was a journalist working for a Soviet newspaper; in 1985 the Thatcher government expelled him for alleged spying. (During the same period Vladimir Putin was a KGB officer in Dresden.)
The Russian money will fuel Marine Le Pen's run for the French presidency in two years' time. Nobody expects her to win, but the FN topped the polls in May's European elections, winning an unprecedented 25% of the vote; Le Pen's 25 new MEPs already form a pro-Russian bloc inside the European parliament.
But there is also a more profound and sinister aspect to the Moscow cheque. Since at least 2009 Russia has actively cultivated links with the far right in eastern Europe. It has established ties with Hungary's Jobbik, Slovakia's far-right People's party and Bulgaria's nationalist, anti-EU Attack movement. Here, political elites have become increasingly sympathetic to pro-Putin views.
According to Political Capital, a Budapest-based research institute which first observed this trend, the Kremlin has recently been wooing the far-right in western Europe as well. In a report in March it argued that Russian influence in the affairs of the far right is now a "phenomenon seen all over Europe". Moscow's goal is to promote its economic and political interests – and in particular to ensure the EU remains heavily dependent on Russian gas.
In Soviet times the KGB used "active measures" to sponsor front organisations in the west including pro-Moscow communist parties. The Kremlin didn't invent Europe's far-right parties. But in an analogous way Moscow is now lending them support, political and financial, thereby boosting European neo-fascism.
In part this kinship is about ideology or, as Political Capital puts it, "post-communist neo-conservatism".
The European far right and the Kremlin are united by their hostility to the EU.
Since becoming president for the third time in 2012, Putin has been busy promoting his vision for a rival Eurasian Union. This is an alternative political bloc meant to encompass now-independent Soviet republics, with Moscow rather than Brussels as the dominant pole.
The Kremlin has also discovered that the western political system is weak, permeable and susceptible to foreign cash. Putin has always believed that European politicians, like Russian ones, can be bought if the money is right.
According to US diplomatic cables leaked in 2010, Silvio Berlusconi has benefited "personally and handsomely" from energy deals with Russia; the former German chancellor Gerhard Schröder, Putin's greatest European ally, sits on the board of the Nord Steam Russian-German gas pipeline.
Far-right and rightwing British politicians, meanwhile, have also expressed their admiration for Russia's ex-KGB president.
In March Nigel Farage named Putin as the world leader he most admires, and praised the "brilliant" way "he handled the whole Syria thing". In 2011 the BNP's Nick Griffin went to Moscow to observe Russia's Duma election. Afterwards he announced that "Russian elections are much fairer than Britain's".
Last week Griffin tweeted praise for Russia Today, the Kremlin's English-language TV propaganda news channel: "RT – For People Who Want the Truth".
Tactically, Russia is exploiting the popular dissent against the EU – fuelled by both immigration and austerity. But as rightwing movements grow in influence across the continent, Europe must wake up to their insidious means of funding, or risk seeing its own institutions subverted.