Critics say India has too much poverty for such an endeavour.
But space exploration should not be the preserve of the rich west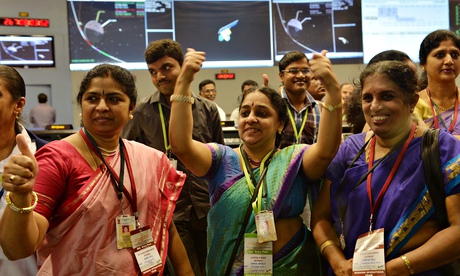 India's space agency – the Indian Space Research Organisation – is a late entrant to the space race, and the success of Mangalyaan ("Mars craft" in Hindi) makes the country an Asian leader in space exploration, if not yet a global one. The mission has been received with delight on India's social media and across its political spectrum, where "national pride" is the watchword.
To reach a distant world, where others have failed, might have had special significance for Narendra Modi, India's prime minister, as he finally heads off to the United States for an official visit, having been
denied a visa
in the past because of doubts over his role in the 2002 Gujarat bloodshed. Modi and his ministers have been quick to assert collective pride in Mangalyaan as part of their vision of a globally ascendant India, ignoring the fact that
the mission was actually fostered by their predecessors.
But questions are being asked.
The Economist, not a known advocate of the poor or of government spending on social welfare, demanded to know – not only of India but of Sri Lanka, Belarus, Bolivia and Nigeria, all "minnows" with fledgling space aspirations: "How can poor countries afford space programmes?"
Cut aid to such over-reaching parvenus, some in Britain have suggested.
The criticism seems partly directed at the fact that the mission was not privately funded, as research in the west increasingly is; state money was channelled towards it without any marketable product emerging.
But inquiry and exploration are not the prerogative of advanced capitalist western nations – with the rest of the world eternally condemned to be a footnote in the history of science, even as its historical contributions to knowledge are forgotten.
A country, however "
largely third world" its "reality"
, as one peevish British economist put it, does not have to circumscribe its sphere of achievement to feeding its people, important as that is.
Indeed, it can be argued that in a better world the search for knowledge and the quest for social justice would be necessarily intertwined. As the Economist concedes, India's weather satellites helped reduce the number of deaths during cyclone Phailin last year.
The real problem, of course, is that in economies that are in addition seeking to win the global capitalist growth race, such symbiosis between people and science is increasingly rare. It's what the progressive economist Jean Drèze may have had in mind when he described the Mars mission controversially as a flag-waving "delusional dream" – when public health and energy needs ought to be met first. Recent floods in Kashmir speak of failures, technological and political, to anticipate and respond to natural disasters. Indeed, placing industrial development over ecological interests often causes such disasters in the first place.
Serious questions remain about whether science and technology – and not just in poorer countries – can have a greater good in mind when the bottom line is profit. The space race between the US and the Soviet Union was not an affordable luxury undertaken for the sake of knowledge, but intrinsically tied to the military-industrial complex. Whatever the intellectual commitments of India's space scientists, there's no doubt that the language of national "heroism" and technological "might", which underpins a dangerous religiously inflected military and nuclear standoff in the region, afflicts much of the praise poured on the Mars mission's success.
Perhaps national science and technology policy can be fully prised away from corporate and defence industry interests, and placed firmly in the province of economic justice and social progress.
But the current administration's record is not encouraging:
Indian ministers have flouted scientific advice by fast-tracking environmental clearances to corporations including mining firms.
Yet India is fortunate in having a long and diverse history of campaigning science movements that have sought to draw both on indigenous knowledge traditions and direct modern scientific research towards progress in health, literacy, environment, nutrition and sanitation. The best way for India to commemorate the success of Mangalyaan would be to reopen a national debate about how science and technology can best be harnessed in the widest interests of its people.