From Ofsted and the BBC to the Lords, there's a strong whiff of cronyism. When will we have the courage to challenge it?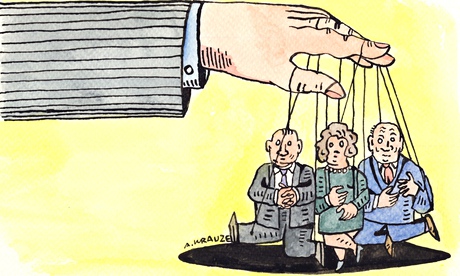 One crony is just a crony; it doesn't – by my reckoning – become an "ism" until there are three. If the chairmanship of the BBC Trust hadn't come up at the same time as the chiefdom of Ofsted, and if those two things weren't playing out in the foreground of the peerage announcements to come this week, it might be OK, and the whole of public life wouldn't look like it could all be such an embarrassing stitch-up. Unfortunately, the three events have come together. David Hoare is the new chief of Ofsted. Seb Coe is not the new head of the BBC Trust, but not for want of begging by the government, which changed the job requirement to make it more appealing to him. Karren Brady and Stuart Rose are reported to be lined up for ennoblement.
In fairness, appointments to the House of Lords are at least meant to be political, even if they shouldn't, strictly speaking, be distributed on the basis of wealth. The other two posts, however, are supposed to be appointed impartially, with the emphasis on fitness for the post.
So what is David Hoare's fitness? He is a trustee of AET academies, which is the largest chain, and also one of the worst – in the bottom quarter for results, both its disadvantaged and non-disadvantaged pupils achieving below-average GCSEs. Five schools in the chain had "unacceptable standards", according to ministers earlier this year, though Ofsted's verdict, due to be published last week, has been delayed. Not to worry. The other 72 schools may well have acceptable features. The Department for Education can't see what all the fuss is about, since Hoare appears to be far less unpopular and less irrelevantly qualified than its other candidate, Carphone Warehouse founder (and Tory donor) David Ross.
For me, the main problem isn't Ross's relationship with the Conservative party, or even the alleged tax-avoiding practices of Ross and Hoare's current or past business interests, though I must admit I'm not thrilled to see the highest ranks of public life wedged with people who don't appear to understand the point of tax. No, worse than any of that is the assumption of the DfE that almost anybody will be better at running education than someone with experience of teaching.
The entry point for a significant post in the academies system is that you should never have set foot in a state classroom. God forbid that you should ever have stood at the front of one, and taught anything to anyone. In years to come, we will look back in wonder at this period, when government worshipped at the feet of industry so fervently that it thought its titans could do anything. But right now, we're all trapped in the bowels of government delusion, and won't see the light until Alan Sugar has been appointed chancellor of Cambridge University and Richard Branson is chief medical officer.
These are two sides of the same coin, whether you're talking about politicians fawning over business leaders, or business leaders casting cash – or the pearls of their acumen – towards politicians. You'd think we'd be used to it, since New Labour was beset by rows such as these. Whether it looks like corruption or cronyism – is it actively bent, or does it merely stink? – depends a lot on whose side is doing the crony recruitment. But this is surely a rare point of convergence between the Morning Star and the Daily Mail: it doesn't look very transparent or objective when politicians recruit their allies.
They give us breadheads, to run our institutions of oversight, but they also give us circuses: this is the only plausible explanation for the desperate bid to appoint Seb Coe as chair of the BBC Trust. He is a Tory and a national treasure, a man it is impossible to dislike, a recognisable face and acute businessman whose achievements are uncomplicated and demonstrable. He can run really fast, OK? In these turbulent times for the BBC, as its enemies mass on the borders of its charter (up for renewal in 2016) calling for its disintegration, that's what we need at the helm, clearly. A man who can run incredibly fast.
In the hubbub around the job description having been rewritten to suit Coe, you may have missed the details of that rewrite: it was to reduce the time commitment that the head of the trust would have to make. This said it all about the process – first, that nobody making the appointment was really taking seriously how significant it was, and second, that Coe didn't really want to do it. He has now come out and rejected it, as apparently have Patience Wheatcroft, Dame Marjorie Scardino, Sir Howard Stringer and Sarah Hogg.
Why candidates should be snatching their hats so energetically out of the ring is open to question. Former Labour culture secretary Tessa Jowell maintains they are put off by the high level of political meddling, but this seems to be an unlikely deterrent for those who agree with the meddlers. I can well imagine, however, that a candidate of any leaning might be put off by the sheer bungling frivolity, the sight of a government desperately grappling for a household name, a bit of borrowed popularity. Anyway, the shortlist is, for today at least, back to one: Nick Prettejohn, City grandee and former adviser to George Osborne. The circus said no, and we're back to the breadhead.
The phrase "City grandee" cheered me up, however: remember

Royal Mail, and remember that it could be worse. They didn't have to just give these posts to their associates; they could have sold them.