Poll commissioned to launch series on unconscious bias shows gulf in negative experiences by ethnicity

Robert Booth and Aamna Mohdin in The Guardian
Half of black, Asian and minority ethnic respondents in the poll said they believed people sometimes did not realise they were treating them differently because of their ethnicity. Photograph: Murdo MacLeod for the Guardian




The extent of racial bias faced by black, Asian and minority ethnic citizens in 21st-century Britain has been laid bare in an unprecedented study showing a gulf in how people of different ethnicities are treated in their daily lives.

A survey for the Guardian of 1,000 people from minority ethnic backgrounds found they were consistently more likely to have faced negative everyday experiences – all frequently associated with racism – than white people in a comparison poll.
The survey found that 43% of those from a minority ethnic background had been overlooked for a work promotion in a way that felt unfair in the last five years – more than twice the proportion of white people (18%) who reported the same experience.

The results show that ethnic minorities are three times as likely to have been thrown out of or denied entrance to a restaurant, bar or club in the last five years, and that more than two-thirds believe Britain has a problem with racism.

The ICM poll, commissioned to launch a week-long investigation into bias in Britain, focuses on everyday experiences of prejudice that could be a result of unconscious bias – quick decisions conditioned by our backgrounds, cultural environment and personal experiences.
It is believed to be the first major piece of UK public polling to focus on ethnic minorities' experiences of unconscious bias, and comes amid wider concerns about a shortage of research capturing the views of minority groups.

The poll found comprehensive evidence to support concerns that unconscious bias has a negative effect on the lives of Britain's 8.5 million people from minority backgrounds that is not revealed by typical data on racism. For example:

• 38% of people from ethnic minorities said they had been wrongly suspected of shoplifting in the last five years, compared with 14% of white people, with black people and women in particular more likely to be wrongly suspected.

• Minorities were more than twice as likely to have encountered abuse or rudeness from a stranger in the last week.

• 53% of people from a minority background believed they had been treated differently because of their hair, clothes or appearance, compared with 29% of white people.

The Runnymede Trust, a racial equality thinktank, described the findings as "stark" and said they illustrated "everyday micro-aggressions" that had profound effects on Britain's social structure.

"Racism and discrimination for BAME people and minority faith groups isn't restricted to one area of life," said Zubaida Haque, the trust's deputy director. "If you're not welcome in a restaurant as a guest because of the colour of your skin, you're unlikely to get a job in the restaurant for the same reason. Structural and institutional racism is difficult to identify or prove, but it has much more far-reaching effects on people's life chances."

David Lammy, the Labour MP for Tottenham, said the findings were upsetting. "Racial prejudice continues to weigh on the lives of black and ethnic minority people in the UK. While we all share the same hard-won rights, our lived experience and opportunity can vary," he said.

Recalling being stopped and searched when he was 12, Lammy said: "Stereotyping is not just something that happens, stereotyping is something that is felt, and it feels like sheer terror, confusion and shame."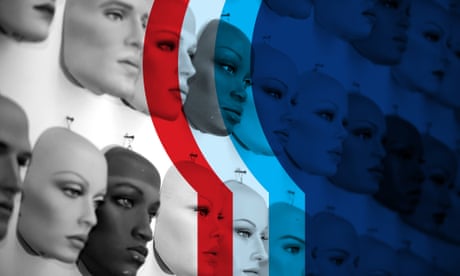 Half of the respondents from a minority background said they believed people sometimes did not realise they were treating them differently because of their ethnicity, suggesting unconscious bias, as well as more explicit and deliberate racism, has a major influence on the way millions of people who were born in the UK or moved here are treated.

As well as demonstrating how much more likely ethnic minorities are to report negative experiences that did not feature an explicitly racist element, the poll found that one in eight had heard racist language directed at them in the month before they were surveyed.

It also found troubling levels of concern about bias in the workplace, with 57% of minorities saying they felt they had to work harder to succeed in Britain because of their ethnicity, and 40% saying they earned less or had worse employment prospects for the same reason.

The poll persistently found evidence that the gap in negative experiences was not confined to the past. For example, one in seven people from ethnic minorities said they had been treated as a potential shoplifter in the last month, against one in 25 white people.

The findings come a year after Theresa May published a race disparity audit that identified differences in living standards, housing, work, policing and health. The prime minister pledged to "confront these issues we have identified" but admitted: "We still have a way to go if we're truly going to have a country that does work for everyone."

In October the government said employers could be forced to reveal salary figures broken down by ethnicity, as they already do for gender, in a move that lawyers predicted could lead to a flood of employment tribunal cases. Black, Asian and minority ethnic unemployment stands at 6.3%, compared with 3.6% for white people.

Bangladeshi and Pakistani households had an average income of nearly £9,000 a year less than white British households between 2014 and 2016, and the gap between white and black Caribbean and black British families was £5,500.

One of the few positive findings was that just over half of those surveyed said they had either never experienced someone directing racist language at them, or had not done so for at least five years.

However, the results raise concerns over efforts to forge a multicultural British identity, with 41% saying someone had assumed they were not British at some point in the last year because of their ethnicity.

People from minorities are twice as likely as white people to have been mistaken for staff in a restaurant, bar or shop. One in five said they had felt the need to alter their voice and appearance in the last year because of their ethnicity.

The effects of bias are not the same for all ethnicities. Half of black and mixed-race people felt they had been unfairly overlooked for a promotion or job application, compared with 41% of people from Asian backgrounds. Black people were more likely to feel they had to work harder to succeed because of their ethnicity.

Muslims living in Britain – a large minority at around 2.8 million people – are more likely to have negative experiences than other religious groups. They are more likely than Christians, people with no religion and other smaller religions to be stopped by the police, left out of social functions at work or college and find that people seem not to want to sit next to them on public transport.

A government spokesperson said the prime minister was determined that people of different ethnicities were treated equally. The spokesperson said: "One year on from [the race disparity audit's] launch, we are delivering on our commitment to explain or change ethnic disparities in all areas of society including a £90m programme to help tackle youth unemployment and a Race at Work charter to help create greater opportunities for ethnic minority employees at work. We have also launched a consultation on mandatory ethnicity pay reporting."