Aditya Chakrabortty in The Guardian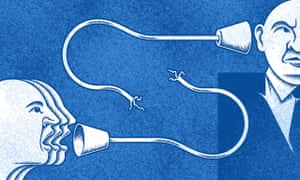 'Voters believe that even if they did exercise their right to leave the EU, the politicians wouldn't obey them.' Illustration by Matt Kenyon


Neil was speckled with paint from his trousers to his spectacle lenses, and had come straight from work to the vape shop. When I asked which side he'd be backing in the EU referendum, he projected as if addressing a rally. He wanted everyone to know he was damned if he was going to vote. "It's an illusion that we've got a say in it. We don't live in a democracy. The day of having a common working man standing for us here or in Europe – it's over."

We were in Pontypool, south Wales. As a valleys boy ("I smell of sheep"), Neil had been brought up Labour. But now, "It's all lies, isn't it?" Then came the sins: Blair "a big liar"; the political class in the pockets of the bankers.

It was the refrain I kept getting last week across south Wales – and have heard in many other regions too. That dissolution in old loyalties, that breakdown in trust, runs wide and deep – and it already marks the referendum on 23 June. Opinion polls show that voters believe that even if they did exercise their right to leave the EU, the politicians wouldn't obey them. This is what a democratic crisis looks like.

Although journalists often remind us that this is the first vote the British have had on Europe in 40 years, they rarely dwell on what happened last time round. Yet the torchlight of history shows just how much has changed. While today's polls show leave and remain neck and neck, the 1975 referendum on whether Britain should stay in the European Economic Community was as good as won before it was even announced. The then prime minister, Harold Wilson, led a coalition of the establishment – all three parties, the unions, the business lobbies, the press – and emerged with a 2:1 majority to stay in.

"Europhoria" is how the Guardian reported the results. Its leader began: "Full-hearted, wholehearted and cheerful hearted: there is no doubt about the 'yes'." Imagine anything even close to that being said in two weeks' time – after months of sullen and sour campaigning, of close colleagues branding one another "liars", "luxury-lifestyle" politicians and "Pinocchio".

"Wilson would never have asked a question of which he couldn't be confident of the answer," says historian Adrian Williamson. Contrast that with David Cameron, who once claimed he wanted to be prime minister because he'd be "rather good at it", but now resembles a short-tempered supply teacher struggling to control his own class.

Panicked by a fear of Nigel Farage and the ultras in his own party, the Tory leader has staged a referendum for which there was little public appetite and which he may now, incredibly, lose.

Months were spent trailing a deal that the prime minister was going to strike with Germany's Angela Merkel and the rest – a rewriting of the rules that was going to form the basis of this referendum. You've barely heard about that deal since.
Posed a question few of them were actually asking, voters have wound up raising their own. Why haven't my wages gone up? How will the kids get on the housing ladder? When will my mum get her knee replacement? All good questions, none of which are actually on the ballot paper. The likely result is that on 23 June, many of those who do vote will try to squeeze a multitude of other answers into one crude binary.

In 1975 Roy Jenkins, another son of Welsh coal and steel, explained the result as: "The people took the advice of people they were used to following." Classic Jenkins, but also an expression of the classic role of mass political parties. When they had millions of members, both Labour and the Conservatives served as the brokers between the people they represented and the "experts", the authoritative midpoint between ideology and empirics.

Neither party can claim to be mass any more, least of all the Tories – low on members, bankrolled by hedge funds and the City. This creates what Chris Bickerton, politics lecturer at Cambridge, calls "the crisis of political mediation".

No longer claiming the same democratic legitimacy as their predecessors, Cameron and George Osborne have had to borrow their authority from other sources: Mark Carney and the Bank of England, the International Monetary Fund, the Treasury. These technocrats, much cited by broadcasters and jittery remainers, are one of the two main sources of authority in our democracy. The other is the post-truth brigade, as channelled by Boris Johnson and Michael Gove, who advise voters to ignore the nuance, trust their gut – and blame migrants or the Brussels fatcats.

British democracy in 2016 comes down to this: a prime minister can no longer come out and say something and expect to be believed. He or she must wheel out a common room-full of experts. He or she can expect to be called a liar in the press and by their colleagues. He or she can only hope that some of what they say resonates with an electorate that has tuned them out.

And mainstream politicians have only themselves to blame. Over the past three decades, Britons have been made a series of false promises. They have been told they must go to war with a country that can bomb them in 45 minutes – only to learn later that that was false. They have been assured the economy was booming, only to find out it was fuelled by house prices and tax credits.

New Labour pledged an end to Margaret Thatcher's unfairness, except that – as the Centre for Research into Socio-Cultural Change has shown – the richest 20% of households scooped as much of the income growth under Brown and Blair as they had under the Iron Lady.

Britons were told austerity would last five years, tops – although we will now endure at least a decade.

And the people of south Wales were told new industries would replace the coal and steelworks. Looking out of the shop window, Neil remembered how Pontypool on market days like today would be "rammed". Now it was half-empty. "It's dead now, because they took what they wanted," he said. "Thatcher smashed the unions. There used to be coalmines all around here. Boosh – we're out of here. They've moved on."

Cameron and the rest of the political class are learning a lesson the hard way. You can only break your promises to the public so many times before they refuse to put any more trust in you. After that, you have to rely on Threadneedle Street and the Treasury to corrode their own finite reputation for impartiality.

Whichever way the ballots go on 23 June, the public will continue returning a vote of no-confidence in Westminster for a long time to come.