Marina Hyde in The Guardian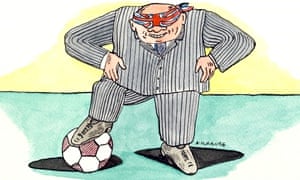 'There is a huge section of fans – and, clearly, administrators – with absolutely no idea how much England is detested within world football, nor any idea as to why.'

Illustration: Andrzej Krauze
You know when World Cups started being corrupt? 1970. And anything up to and including 1962. Between those dates, there was a brief and ineffably beautiful interregnum in the chicanery, which thereafter was never allowed to happen again. Why? Well, there was a global sense, really, that the sainted custodians of both tournament and trophy during that time were simply too exquisitely mannered, too morally faultless, too humble, too generous-spirited, too brilliant at football ever to be permitted to shame the rest of the world in this manner again.

Did you enjoy that story? If so, you may be Greg Dyke, or have suffered a recent head trauma. Either way, please seek help immediately.

The Fifa scandal erupted a mere 10 days ago, and it took barely two of those for England to make it all about itself. Ooh, you've no idea how they treated us during the bid process. Ooh, the main thing about this is that we should be given one of the disputed World Cups. The scale of the FBI takedown of Fifa is vast. England is like a diner in one of the ground-floor restaurants of the Towering Inferno building, wondering how what's going on upstairs is going to affect its drinks order. Odd how they underplay the fact that England's bid team gave the wives of the executive committee – their wives! – Mulberry handbags. This isn't being "above" bribery. It's being unable to get out of the group stages of bribery.

Already, culture secretary John Whittingdale has announced that England is ready to host the 2022 World Cup, should Qatar be stripped of it. Newsflash, buddy: at their current rate of acquisition of English landmarks, Qatar will already own all our major stadiums and half our infrastructure by 2022, so that'll be just the sort of pyrrhic two-fingers in which we specialise. Yes, Qatar, you'll know we've really beaten you when England lose to Paraguay in the opening match of the tournament at Liverpool's Qatar Airways stadium (when you go down the tunnel on to the pitch there's a spine-tingling sign that reads "THIS IS DOHA".)

I say "we", but there is no longer a "we" as far as the Fifa exposé goes. We had a good innings, being all in it together. People who don't even care for football were remarking how watchable footballing arrests were. The utter insufferability of Sepp Blatter was something we could all get behind, while his victory last Friday was an election result on which we could all agree, so soon after our own one, on which we couldn't.

But the point-missing parochialism was always in the post, and its arrival marks the end of the cross-party, cross-club, cross-everything love-in that has characterised the Fifa story.

From phone-ins to frontbenches, you now cannot move for Little Englanders telescoping world football down to their concerns. At their notional helm is FA chairman Greg Dyke, who did such a bang-up job dealing with the Hutton inquiry that he's decided to come and bring that same grasp of nuance to what he presumably imagines to be his moment on the global stage. I suppose the best you can say is that there's less left to damage with English football than there was with the BBC. But really, there hasn't been a managerial double whammy like it since André Villas-Boas swept from Chelsea to Tottenham.

Historically, there have been few statements less guaranteed to fill you with confidence than "this is a matter for the FA". Unless you count something like "this is a matter for the Jockey Club", whose two-legged overlords were traditionally intellectually outclassed by their four-legged underlings. The competition to be the worst-run British sporting body is always hard fought, but the FA has won the title more than any of the others.

And they look to have another in the bag with their reflexive prejudging of corruption allegations, ill-advised speculation about the FBI investigation, and jingoistic bleats about how unfair it all is. It's just a marginally more self-regarding version of throwing cafeteria furniture across a city square in a Sun-issue Tommy hat. They are naturally supported by said newspaper, whose Pooterish idea that Sepp Blatter was paying attention to what was in their leader column saw it declare in 2010: "Today the Sun makes this plea to Mr Blatter and Fifa. Don't be put off by the BBC rehashing ancient history. Despite BBC muck-raking, the Sun trusts Fifa to put football first."

Even our football-loving prime minister is just another Englishman whose criticism of Fifa is based solely on self-interest, as opposed to principle, and whose pettiness only serves to underscore the global perception that our position on everything is based on sour grapes. Back in 2010, he too criticised the British media for daring to investigate Fifa, while the bid team called it "unpatriotic". Cameron has spent the past week falsifying his anti-Blatter history while failing to disguise his belief that nicking the 2018 World Cup hosting rights would be the perfect money-shot to his prime ministership.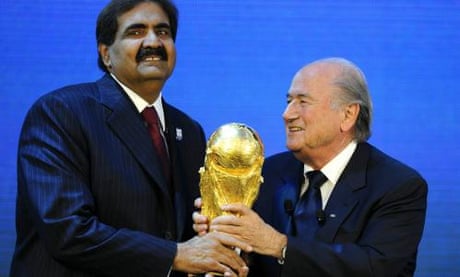 England ready to host 2022 World Cup in place of Qatar, culture secretary says



Consider these powers the perfect spiritual leaders for a tribe whose analogue is probably those Americans who genuinely hadn't a clue they were even disliked before 9/11. There is a huge section of fans – and, clearly, administrators – with absolutely no idea how much England is detested within world football, nor any idea as to why. And no interest in getting one.

Ideally, each and every one of them would be forced to attend a six-week residential course in which a series of instructors prepared detailed presentations on the matter, which concluded with the rhetorical inquiry: "Do you now understand why everyone thinks we're just absolutely massive arses?"

Unfortunately, I am told that given the numbers involved this is not a scaleable solution. In which case, just for the merriment, please, please let the FBI open an investigation into how hosting rights for the 1966 World Cup were won. I don't even care about international law any more, or the increasingly bonkers mission creep which has seen the US announce additional probes into the 2010 and 2014 World Cups, as well the 2018 and 2022 vote, and which will now clearly end in this being the US's legal equivalent of Nam. I just want someone – anyone – to bring home the realisation that we really are the Ukip of international football. And, increasingly, of international life.