2 April 2015 Damian Zane in BBC
Magazine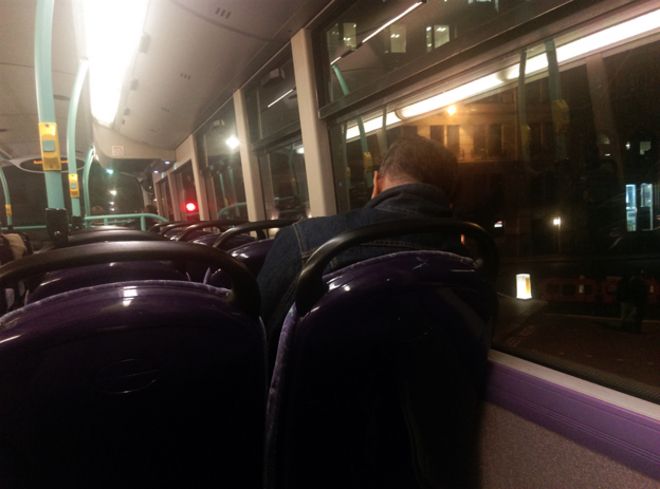 Heathrow airport is pretty empty at 2am. One of the few people around is a man waiting for a bus.
It's part of his nightly ritual as he seeks shelter on London's network of night buses.
This is Ahmed, not his real name, a 44-year-old failed asylum seeker from India. He's wrapped in a large cream, canvas coat, with a thick brush of grey hair combed to one side.
Ahmed starts his journey at about 11pm in Leicester Square, in the heart of tourist London, packed full of people throughout most of the night.
It's a perfect place to remain invisible.
"With all these people going to the pubs and clubs, you can stay here until four o'clock in the morning," he says.
But Ahmed's typical nightly route starts with the number 24 to Hampstead Heath. Then he gets off, and gets the bus straight back where he came.
By the time he reaches central London again, the night buses have started and he can pick one of the longest routes to allow for the most rest.
"Sometimes I think about ending my life," he says, while contemplating the possibility of being arrested and forced to return to India.
Ahmed is a Muslim who grew up on a farm in rural Gujarat. Fearing for his life in the communal riots there in 2002, he fled to London. During an earlier bout of violence he'd witnessed his uncle being stabbed to death.
Traumatised by that experience and concerned that he could be targeted, he was persuaded by his parents to leave and find a better life outside India.
"They said 'you should go, don't worry about us'. That day was a very heavy day for me because I [was] leaving my parents alone," he says.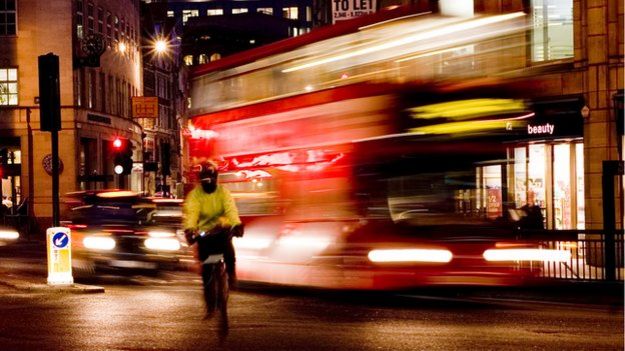 With a visitor's visa in his passport he flew into Heathrow and applied for asylum. It was rejected. India is considered to be a generally safe country, and certainly big enough for the possibility of restarting a life away from Gujarat.
Ahmed's appeal was also refused and he was told to return to India. But instead he chose to silently drop out of the system, fearing the consequences of returning home.
Not being allowed to work, he had no income and soon began sleeping rough - in doorways and behind bins, occasionally a bed in a shelter. Eventually he heard about the bus option, and has since spent much of the past three-and-a-half years sleeping on night buses.
And during that time, he's picked up certain techniques to remain undetected.
But Ahmed has also learned other methods to improve his chances of a good sleep.
He rushes to the front of the queue, he says, because there are others like him and everyone clamours for the seats on the lower deck, above the engine at the back, where it's warmest.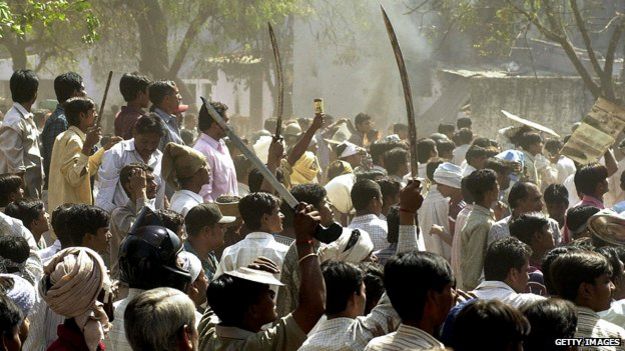 A Hindu mob confronts a Muslim one in Gujarat, 2002
Ahmed says it's easy to spot others in a similar situation. Many are dressed in jeans and layers of hooded sweatshirts to keep out the cold, often avoiding eye contact in an effort not to be noticed.
At one stop, he points out migrants who he's travelled on the buses with before. It's a fleeting glimpse of some sort of camaraderie between these night travellers, but they all have their own individual struggles to contend with, which can hamper the development of strong friendships.
Ahmed is one of thousands of failed asylum seekers, as well as people awaiting the outcome of appeals, drifting through London, often unrealistically hoping their circumstances will suddenly change.
No accurate count of their numbers exists. It's inherently difficult to count people who have dropped off the radar. A
report last year
said that the Home Office is unaware how many of the 175,000 people who have no right to be in the UK still remain.
On the bus, Ahmed grabs some rest whenever he can.
He says he has a recurring dream. "It's like somebody's after me, they're going to hit me or stab me." Ahmed says that some people in the same situation can be hostile, pushing and shouting at him.
But his constant fear is of being discovered by authorities. So he adopts a common survival strategy - never cause trouble and never be where trouble is happening.
On the busy Friday and Saturday night buses, things can get rowdy, he says, making it difficult to sleep. But if ever that rowdiness escalates into violence, Ahmed is off at the next stop, keen to avoid being there if police are called.
He's not entirely alone in his struggle to survive in London. A mosaic of organisations exists in the city to help migrants and asylum seekers. They can provide piecemeal help in the form of small cash hand-outs, legal advice, a hot meal and a shower.
Three times a week Ahmed visits a centre in east London where he can wash himself and his clothes. He also stores two plastic bags holding his possessions there. At another of these charities, Ahmed cooks in return for travel money to ride his buses. After the meal, Ahmed plays table tennis and Scrabble with other migrants.
A free meal and the chance of companionship is a big draw.
"I love cooking, I'm happy if the people are eating and bless me," he says. "It means more to me than getting my papers to stay. It's by people's blessing that things will get sorted out."
But these moments of pleasure and purpose are just short punctuations in long stretches of loneliness. And once the centre closes for the day Ahmed is back on the buses.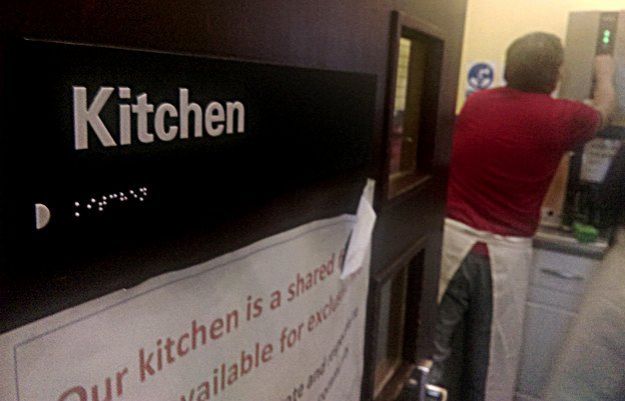 "Last night my leg was paining me, my whole body was aching, and now the weather's getting cold," he says. "Two winters I passed on the buses and it was quite difficult. It's very difficult to survive in the winter time."
We board the night bus to Heathrow Airport. At 80 minutes, it's one of the longest routes on the network.
But arriving at an airport raises the nagging question about what is so wrong with returning to India. In the UK he has no job, no place to live and no security. It is hard to imagine what could be worse than this.
Yet Ahmed is adamant. "I can't go. Back home I have a more dangerous situation and persecution. So I'm not ready to go back to India.
"If my situation is getting worse then there may be no alternative for me [but to kill myself]. I always pray that I never get caught and sent back to India."
But how much longer can he continue?
Another couple of years, Ahmed says. He clings to the hope that once he's been in the UK for 12 years he'll be allowed to stay officially. But that optimism is not backed up by the law.
Such a provision - after 14 years, not 12 - did exist until 2012. People living in the UK - either legally or illegally - for that time could then apply for leave to remain.
That period has now been lengthened to 20 years.
And unless Ahmed decides to return to India, or gets caught, that means many more hours of waiting, and many more night buses.