The Chilean dictator presided over the torture and murder of thousands, yet still the free-market right reveres his name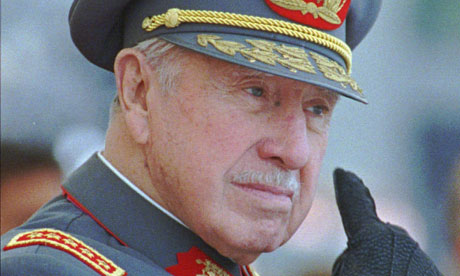 Egyptians would be lucky if their new ruling generals turn out to be in the mold of Chile's Augusto Pinochet, who took over power amid chaos but hired free-market reformers and midwifed a transition to democracy.
Presumably, this means that those who speak for the Wall Street Journal – the editorial was unsigned – think Egypt should think itself lucky if its ruling generals now preside over a 17-year reign of terror.
I also take it the WSJ means us to associate two governments removed by generals – the one led by Salvador Allende in Chile and the one led by Mohamed Morsi in Egypt. Islamist, socialist … elected, legitimate … who cares?
Presumably, eventually, the Egyptian general or generals – and we should let them have a junta if they want one,
so long as it isn't like that beastly example in Argentina
– will willingly relinquish power. After all, democracy cannot "midwife" itself. Presumably, the WSJ is sure a transition to elected government will follow, as it did in Chile. (Although, in 15 years' time the Argentinian writer Ariel Dorfman's words will, presumably, ring as true as they do now: "Saying Pinochet brought democracy to Chile is like saying Margaret Thatcher brought socialism to Britain." More of her later.)
Such quibbles notwithstanding, I'm presuming the WSJ envisages that the Egyptian general or generals will then be allowed to retire, unmolested. Possibly to Wentworth, where the golf's good. But if any molestation does occur, perhaps by some uppity human rights lawyer, they will receive further assistance from the governing classes of Britain and America. He or they will then retire and, unlike his or their victims,
die a free man – or men – in bed
.
And presumably, after another 20 or 30 years, when some other group of generals removes a democratic government upon which the Wall Street Journal is not keen, the people of the fortunate country in question will be told what is good for them in the same breathtakingly ugly way.
Presumably, the Wall Street Journal's editorial board believes that because Pinochet "hired free-market reformers", he should be excused the excesses of a few death squads.
That is, presumably, why they think a business-friendly cold killer in the Pinochet mold is who Egyptians need now to manage their "transition to democracy".
But really, I'm at a loss. There must be some sort of justification for such a statement. I just haven't the slightest clue what it is.