Report for the UN into the activities of the world's 3,000 biggest companies estimates one-third of profits would be lost if firms were forced to pay for use, loss and damage of environment
Juliette Jowit
The cost of
pollution
and other damage to the natural environment caused by the world's biggest companies would wipe out more than one-third of their profits if they were held financially accountable, a major unpublished study for the
United Nations
has found.
The report comes amid growing concern that no one is made to pay for most of the use, loss and damage of the environment, which is reaching crisis proportions in the form of pollution and the rapid loss of freshwater, fisheries and fertile soils.
Ahead of changes which would have a profound effect - not just on companies' profits but also their customers and pension funds and other investors - the
UN-backed Principles for Responsible Investment
initiative and the United Nations Environment Programme jointly ordered a report into the activities of the 3,000 biggest public companies in the world, which includes household names from the UK's FTSE 100 and other major stockmarkets.
The study, conducted by London-based consultancy
Trucost
and due to be published this summer, found the estimated combined damage was worth US$2.2 trillion (£1.4tn) in 2008 - a figure bigger than the national economies of all but seven countries in the world that year.
The figure equates to 6-7% of the companies' combined turnover, or an average of one-third of their profits, though some businesses would be much harder hit than others.
"What we're talking about is a completely new paradigm," said Richard Mattison, Trucost's chief operating officer and leader of the report team. "Externalities of this scale and nature pose a major risk to the global economy and markets are not fully aware of these risks, nor do they know how to deal with them."
The biggest single impact on the $2.2tn estimate, accounting for more than half of the total, was emissions of greenhouse gases blamed for
climate change
. Other major "costs" were local air pollution such as particulates, and the damage caused by the over-use and pollution of freshwater.
The true figure is likely to be even higher because the $2.2tn does not include damage caused by household and government consumption of goods and services, such as energy used to power appliances or waste; the "social impacts" such as
the migration of people driven out of affected areas
, or the long-term effects of any damage other than that from climate change. The final report will also include a higher total estimate which includes those long-term effects of problems such as toxic waste.
Trucost did not want to comment before the final report on which sectors incurred the highest "costs" of environmental damage, but they are likely to include power companies and heavy energy users like aluminium producers because of the greenhouse gases that result from burning fossil fuels. Heavy
water
users like food, drink and clothing companies are also likely to feature high up on the list.
Sukhdev said the heads of the major companies at this year's annual economic summit in Davos, Switzerland, were increasingly concerned about the impact on their business if they were stopped or forced to pay for the damage.
The aim of the study is to encourage and help investors lobby companies to reduce their environmental impact before concerned governments act to restrict them through taxes or regulations, said Mattison.
"It's going to be a significant proportion of a lot of companies' profit margins," Mattison told the Guardian. "Whether they actually have to pay for these costs will be determined by the appetite for policy makers to enforce the 'polluter pays' principle. We should be seeking ways to fix the system, rather than waiting for the economy to adapt. Continued inefficient use of natural resources will cause significant impacts on [national economies] overall, and a massive problem for governments to fix."
Another major concern is the risk that companies simply run out of resources they need to operate, said Andrea Moffat, of the US-based investor lobby group
Ceres
, whose members include more than 80 funds with assets worth more than US$8tn. An example was the estimated loss of 20,000 jobs and $1bn last year for agricultural companies because of water shortages in California, said Moffat.
The price of environmental destruction? There is none
Putting a price on nature becomes meaningless if we treat the ecosystems upon which we depend as mere commodities with a price for trading

•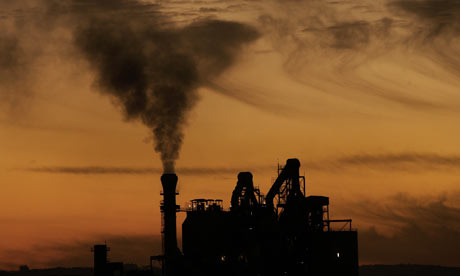 The economy is no stranger to creating its own fantasy world with little or no relation to the real one. We witnessed the damage that can cause when the banks thought they had stumbled on financial alchemy and could transform bad debt into good – economic base metal into gold.
Now it's possible that a much bigger error is coming to light. The rise and rise of global corporations lifted on a wave of apparent productivity gains may have been little more than a mask for the reckless liquidation of natural capital. It's as if we've been so distracted by our impressive speed of economic travel that we forgot to look at the fuel gauge or the cloud of smog left in our wake.
A new UN report
estimates that accounting for the environmental damage of the world's 3,000 biggest companies would wipe out one-third of their profits. Any precise figure, however, is a matter of how risk is quantified and of where you draw the line. In 2006, for example, the New Economics Foundation (NEF), of which I am the policy director, looked at the oil companies
BP
and Shell, who together had recently reported profits of £25bn. By applying the Treasury's own estimates of the social and environmental cost of
carbon emissions
, we calculated that the
total bill for those costs would reach £46.5bn
, massively outweighing profits and plunging the companies into the red.
Yet in exercises like this, we quickly hit the paradox of environmental economics. By putting a price on nature, hopefully it makes it less likely that we will treat the world, and its natural resources, as if it were a business in liquidation. Yet there is a point when it becomes meaningless to treat the ecosystems upon which we depend as mere commodities with a price for trading. For example, what price would you put on the additional tonne of carbon which, when burned, triggers irreversible, catastrophic
climate change
? Who would have the right to even consider selling off the climate upon which civilisation depends? The avoidance of such damage is literally priceless.
If that sounds dramatic, consider that last September a large, international group of scientists
published a paper in the journal Nature
which identified nine key planetary boundaries for key biological systems upon which we depend. They found that we had already transgressed three of those, and were on the cusp of several others. All are potential points of no return as such complex systems begin interacting.
The huge advantage of the UN work is that it attempts to improve the feedback system between the economy and its ultimate parent company, the biosphere. Better risk assessment and value measurement is essential to help prevent what happened to banks happening to the planet.
The concept of a balanced budget, so loved by conservatives in relation to finance and spending, seems to be an alien concept when the consumption of natural resources and the production of waste is concerned. Yet it is far more important to achieve a balanced environmental budget than an economic one. You can always print more money, but you can't print more planet. As John Ruskin put it, "There is no wealth but life."
---
Do you have a story that started on Hotmail?
Tell us now