Why Malayalam novelist KP Ramanunni undertook a penance for the Kathua gangrape in a Kerala temple. According to him, it was his response as a Hindu and a believer. He said he was following the Gandhian tradition of personal atonement for a public evil.


Amrith Lal in The Indian Express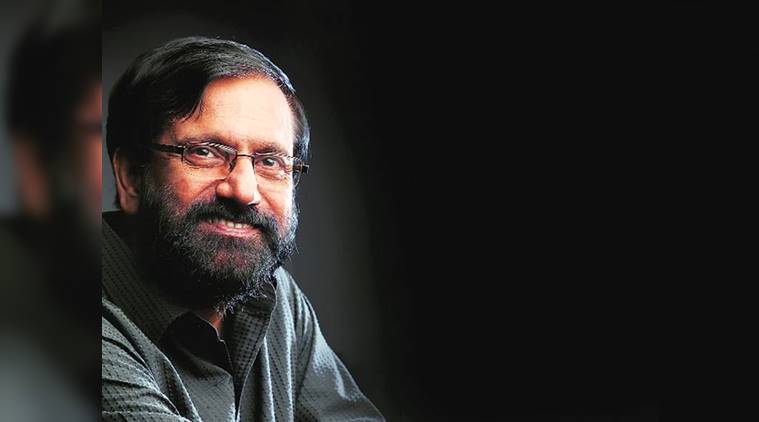 Sahitya Akademi winner and Malayalam novelist KP Ramanunni.



Some weeks ago, this year's Sahitya Akademi winner and Malayalam novelist KP Ramanunni said he intended to atone for the rape and murder of an eight-year-old girl in a temple in Kathua, Jammu. This, he said, was his response as a Hindu and a believer. He said he was following the Gandhian tradition of personal atonement for a public evil. He said he would do a shayana pradakshinam (circumambulation of the sanctum sanctorum by rolling on the ground) along with others at the Sreekrishna Temple in Kadalayi, Kannur. In an appeal, he stated the reasons for his penance. "The Hindus have a responsibility to show an example of resistance from their own platform of faith against the forces of evil. Because, the fundamental dharma of Hinduism is to pray for the well-being of all the world and stand with truth," he wrote. He found support from the Kerala Samskrita Sanghom, an organisation of Left-leaning Sanskrit lovers, and a section of intellectuals, including poet and scholar K Satchidanandan.

But when Ramanunni and two others, including a Hindu monk, declared that they would undertake the penance on June 7, many Hindutva bodies opposed the decision. On the designated day, the writer, accompanied by a large posse of police, activists and believers against and in support of the act, undertook the penance by following all the rituals and traditions of the temple.

Ramanunni's act of atonement has raised a slew of questions. The Hindu right saw it as an anti-BJP political protest. Some felt it was a vacuous spectacle. A few felt secular politics ought not to enter temple spaces or engage with rituals, since that would lead to a validation of Hindu right-wing politics. Even the claim of the circumambulation being a Gandhian act of atonement has been questioned: Can such a singular, individualistic act revive the Gandhian political tradition in a state where the tradition has been marginalised? How different is it from the instrumentalist use of religion by politicians? There are no easy or simple answers to these questions.

For the 63-year-old Kozhikode based writer, this was one way to engage with other Hindus and believers. It was very much in line with the religious syncretism that underlines his fiction, from the much-celebrated Sufi Paranja Katha (A Tale Told By a Sufi, 1995) to his last work, Deivathinte Pustakam (The Book of God, 2017). A recent paper by the Left thinker, B Rajeevan, Sarva Dharma Samabhavana, which called for reclaiming religion from bigots by combining the thoughts of Gandhi, Ambedkar, Sree Narayana Guru and Marx and positing its subaltern self against communalism, inspired him. In this interview, Ramanunni speaks about his attempt to wrest back religious thought from hate. Excerpts:

What made you undertake the act of penance at the Kannur temple?

Every religion, I believe, is getting more and more radicalised and places of worship are increasingly turning into centres of crime. How does one address this issue? I don't think a purely rationalist approach that excludes religious thought can provide any solution. There are democratic spaces and revolutionary strands within the religious sphere that could help resist communalism. I see Mahatma Gandhi as a practitioner of this sort of a politics. He called himself a sanatani Hindu and revolutionised Hinduism. The fraternal feelings he espoused for Muslims were part of his revolutionary understanding of religion. It was also a carefully thought-out moral and political strategy. The idea was to repair the communal divide the British had created in India. But this strand of political activism ended with him, there was no continuity. It also allowed Hinduism to become reactionary and communal. We need to revive the Hinduism of Ramakrishna Paramahamsa, Swami Vivekananda, Sree Narayana Guru, Gandhiji and so on.

Many Muslim groups openly declare that what organisations like the Islamic State preach and do is not Islam. Hindus, too, have to come out and say what is being done today in the name of Hinduism is not Hinduism. The Kathua rape and murder was a heinous crime carried out and defended in the name of Hinduism. There has always been a strand of self-purification and self-criticism within the Hindu religion; doing penance is a part of that tradition. When a Junaid is killed only because he is a Muslim, all Hindus have to bear the burden of that sin, I believe. The rape and murder in Kathua was not just of a Muslim child but also of Hinduism. It is to build such a conscience that I undertook the shayana pradakshinam at the Kadalayi temple.

But why such a protest at a temple?

We hold a lot of town-hall meetings against communalism. We speak to secular people, and all of us are mostly in agreement. I find this funny. This is almost like putting up resistance on the Pakistan border when there is an attack on the Chinese frontier. The communal forces are spreading hate through believers, using places of worship. These spaces have been abandoned by secular intellectuals, whereas communal organisations are mobilising around them. This wasn't so in the past. Temple festivals and functions were more social than religious events. Now, the attempt is to turn ordinary Hindus into bigots. This is done by inviting bigoted people, including sanyasis, to give lectures. But these talks are aimed at creating prejudice against other religions. This sort of brainwashing of people, especially ordinary believing women, has been going on for a while. There is a need to engage with believers, and in their spaces. As a believer, a practising Hindu I have to do it, I will do it.

When did you start thinking about this need to engage with believers?

Some months ago, I planned to tour religious places to spread a message of communal harmony. There was some criticism and people backed out. Around this time, Marxist thinker B Rajeevan and poet K Satchidanandan had spoken about mobilising around the idea of sarva dharma samabhavana, which spoke about equal respect to all religions. Rajeevan's concept inspired me. I have always held that ours is a secularism inclusive of faiths, not one that rejects faiths.

Political parties, including the CPM and the Congress, have been fully supportive of my initiative. They, of course, didn't want it to be a party programme. That's when Kerala Samskrita Sanghom came in support. This is an organisation of people who love Sanskrit. Many of its member are also believers, and some of them had worked in organisations like the RSS in the past. We chose the temple in Kannur because it is known as the Guruvayur of Malabar. Swami Athmatheertha had initially expressed interest in joining me, but he opted out. Organisations like the Hindu Aikya Vedi, a Sangh Parivar outfit, viciously opposed us. If we talk about repentance and penance in a temple, they knew it would hurt their interests.

Is this a one-off thing?

We have discussed the need to work among the believers. Or else, Kerala will soon become a different place. We have a history of communal harmony and shared spaces among different faiths. That is now under threat. Even fraternal relations with people of other faith are now looked upon with suspicion. Communal hatred is increasingly becoming a part of everyday life. Muslims, made insecure by the communalisation of Hindus, are withdrawing into the shell of religious spaces. Communalism is mutually reinforcing. A secularism that keeps out religion is not capable of fighting this regressive trend.

Your initiative has been described as a Left-backed anti-BJP political activity or dismissed as a publicity gimmick.

Malayalis have become very cynical. Social media is most vicious, it is full of bigots and cynics. They will try to discourage or make fun of you. Unfortunately, those who support you are not vocal in public. We live in an age where forces of virtue are weak and the powers of vice are efficient.

What about the criticism that political parties have an instrumentalist approach towards religion? That their interventions in matters of faith have only a political motive?

That's when you reduce your engagement with believers and matters of faith to tactics. A large majority of people who vote CPM in Kerala would be believers. In fact, there are Leftist traditions that engage with religious faith in a positive way. It is important to have a democratic mindset that respects someone's right to believe in god. According to me, if he exists, god is the greatest discovery of mankind; if he doesn't, he is mankind's greatest invention for the support and betterment of humans.