Jonathan Liew in The Independent

At 11am on May 12, 2015, Andrew Strauss was unveiled as the new director of England cricket on the Lord's balcony, in front of a horseshoe of photographers and camera crews.

At exactly the same time, on the other side of London, Kevin Pietersen was walking out to bat for Surrey against Leicestershire at The Oval, 326 not out overnight. By the time Strauss had finished his first interview with Sky Sports News, explaining why he was extinguishing Pietersen's last realistic hope of playing international cricket, the man himself had moved on to 351.

It was the first and last triple-century of Pietersen's career. Scarcely, if ever, has an innings been more auspiciously timed. Scarcely has English cricket's fundamental duality – between inside and outside, genteel and chaotic, starched shirts and grubby whites, polished words and pure filthy deed – been more starkly depicted.

Above all, it underlined the basic and inalienable Pietersen trait, one that will likely follow him to the grave: his immaculate sense of occasion. Scarcely, if ever, has there been a cricketer who timed his interventions to such devastatingly maximal effect.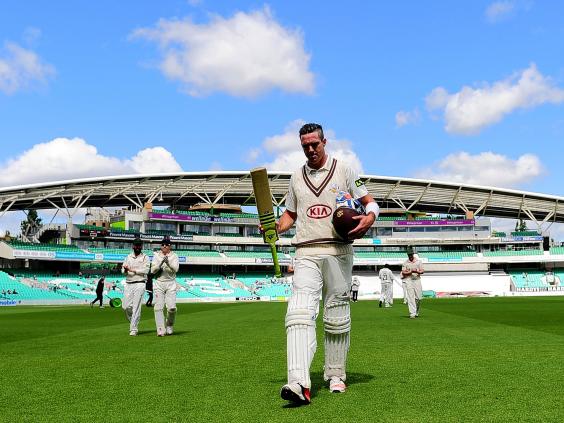 Pietersen finished his timely knock on 355 not out (Getty)




"You're not God," he memorably told Yuvraj Singh during the Mohali Test of 2008. "You're a cricketer. And I'm a better one."

Here again, on a glorious spring morning in London, Pietersen was once again proving that whatever you had to say, he could – and would – say it louder.

---

In hindsight, it would have been brilliantly fitting if that scintillating innings of 355 had been Pietersen's last in first-class cricket: one final, pointless, valedictory V-sign to the English game before he rode into a franchised sunset. But it wasn't.

Instead, Pietersen's last ever game in whites came a few weeks later, a rain-ruined draw against Lancashire. He came in at No4, scratched around for a few minutes, and then edged a vicious lifter to slip off Kyle Jarvis for two. The cameras picked him out in the Surrey dressing room, his gaze drawn to the England v New Zealand Test match on television rather than the drab game unfolding in front of him. Right to the very last, Pietersen never bothered to disguise his disdain for the domestic game, its mixed standard, its modest horizons, what he called the "county cricketcomfort zone".

And so, with England turning its back on Pietersen, Pietersen turned his back on England, spending the last three years of his career travelling the world playing Twenty20. St Lucia Zouks, Dolphins, Melbourne Stars, Quetta Gladiators, Rising Pune Supergiants, Surrey: over time, they all began to blend into each other, the same adoring crowds, the same airport departure lounges, the same arcade game of thrill or bust.

You might almost say Pietersen found his own comfort zone in the end.

By the end of the professional career he finally brought to an end this week, he was a good T20 player, not a great one. The rapidly evolving format was beginning to leave him behind. His low dot-ball percentage, traditionally one of his biggest strengths, was beginning to creep up. Pune, his Indian Premier League franchise, released him at the end of 2016 and with little interest ahead of the 2017 auction, Pietersen decided to pre-emptively withdraw rather than risk the humiliation of going unsold.

Weirdly, T20 always seemed an imperfect fit for Pietersen's remarkable and cadenced range of talents. Yes: like many others, he could belt it miles, and belt it often. But unlike them, he could also do it for hours, for days, and often after doing very little of note for months. Test cricket, with its epic scope, its wild fluctuations in texture and tempo, was always the most appropriate stage for him. He knew it, too. When he was on song, Pietersen could play as loudly as anyone who has picked up a bat. But somehow, it was the quietness that made it so devastating.

Most remarkably, Pietersen never won any of the franchise competitions he competed in: not the Big Bash or the IPL, not the Caribbean Premier League or the Blast, not the Ram Slam or the PSL. Here, perhaps, lies the greatest irony of all. Pietersen's only winner's medal in the format where he eventually focused his energies came in England blue, at the World Twenty20 in 2010. His only triumph was also ours.

For all the bad blood and the rancour, all the fraught meetings and snide briefings, the knives in the back and the knives in the front, the essential truth about Pietersen and England was this: they were stronger together, and weaker apart.

You don't need me to talk you through Pietersen's greatest innings for England. You know them already: the 202 and the 186, the 149 and the 227, the 91 off 65, the 158, the 158, the 158. But the innings Pietersen always rated as his greatest was the 151 he made against Sri Lanka in Colombo in 2012, in 45 degree heat and 100 per cent humidity, with a bat that was slipping in his gloves, a haze so intense it was blurring his vision.

As he swept, clubbed and reverse-swept Sri Lanka's spinners all around the wicket, an intense serenity, an invincible quiet, seemed to settle over him. As he would later write in his book 'On Cricket', the Colombo knock stands out because unlike so many other of his great innings there was nothing flamboyant or bellicose about it: just pure, blissful batting. So much of Pietersen's England career felt like war. This felt like peace.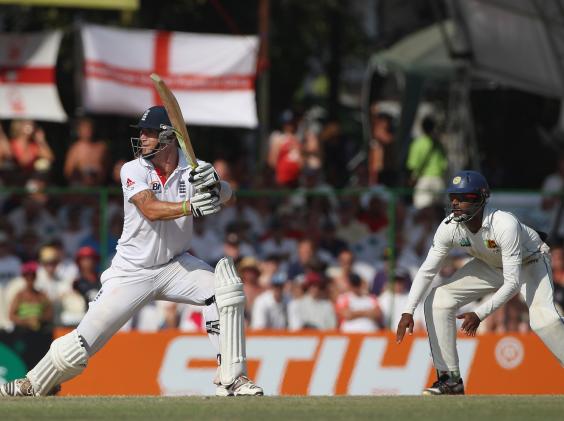 Pietersen played brilliantly against Sri Lanka in Colombo (Getty)



Great art has dreadful manners, as Simon Schama puts it. Perhaps the same applies to great sport: it slaps you around the face, kicks you in the groin, demands that you acclaim it. That was as true of Pietersen off the field as it was on it. Having left home as a teenage off-spinner and fought his way to the very top of the game, he was ruthlessly intolerant of anybody who didn't share his fierce work ethic and relentless standards.

He never really understood the point of county cricket. He never really learned to hold his tongue and keep his opinions to himself. This was Pietersen's way – the natural product of a tough Afrikaner childhood in which even the most minor indiscipline would be punished with a swipe of his farmer's "army stick" – and you could get in line, or you could go to hell.

English cricket – and England in general – is not quite as tolerant and broad-minded as it likes to think it is. The frequent refrain you will hear about Pietersen is that he falls out with people everywhere he goes. The implication, that Pietersen is an inveterate troublemaker who could start a fight in an empty room, is only really part of the story. Pietersen's unapologetic 'otherness' made him as much a target as a protagonist.

Strauss remembers his first encounter with Pietersen, a county game between Middlesex and Nottinghamshire in 2000. As soon as he arrived at the crease, the Middlesex wicket-keeper David Nash began to single out the young newcomer for abuse. Instead of simply ignoring it, Pietersen marched to the square-leg umpire and demanded he put a stop to it. The insult Nash kept using to Pietersen was "doos".

And ultimately, Pietersen was English cricket's ultimate outsider: by turns painfully awkward, wracked by self-doubt, beguiled by attention and yet capable of great generosity. As his final first-class game petered out at The Oval, Pietersen ventured unbidden out of the dressing room to sign hundreds of autographs for young fans on the boundary edge: not a TV camera or a PR enabler in sight, just a star and his adoring public, each getting exactly what they wanted.

Pietersen's relationship with the England team was similarly transactional. It is fashionable to lament those lost years after the 2013-14 Ashes, decry the bitter rift that his sacking opened up within the game, chastise the ECB for their lack of indulgence. But ultimately, they got almost a decade of service out of a brilliant player who helped them win four Ashes series, an India tour and a global tournament. When they had had enough, they simply discarded him. The regime survived. The edifice remained intact.

They won.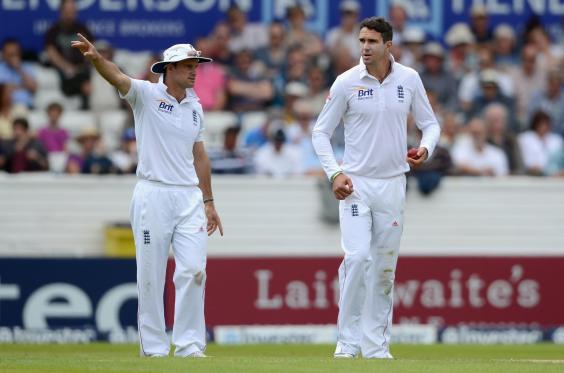 Strauss called an end to Pietersen's England career (Getty)



What of Pietersen? He got to play a game he loved for two decades. He got to travel the world. He won caps, broke records. He got to captain his country and thrill millions. His determination to grasp the opportunities offered by franchise T20 and unwillingness to compromise on his attacking, confrontational approach cost him his career, but virtually everything the ECB has done since is a tacit admission that he was right all along.

Pietersen won, too.

"It's your nation, not mine," Pietersen once quipped to a British interview in a magazine interview. And it is no surprise, really, that as his relationship with the English game began to unravel, he began to seek refuge in the supranational: his wildlife projects, his family, his social media sycophants, the golden fist bump of the global T20 community. Ultimately, Pietersen and English cricket were too different in temperament and culture ever to be more than a fleeting entanglement.

The miracle, really, is that they managed to keep the show on the road for so long. And as the dust finally settles, as time breathes its heavy sigh on one of the great England careers, perhaps that will ultimately be Pietersen's epitaph. When it all came together, nothing on earth could compare. Remember him that way, not the way it ended.