We need to find a radical solution to this inflated market, in which even the top 1% can't afford to house their children in the capital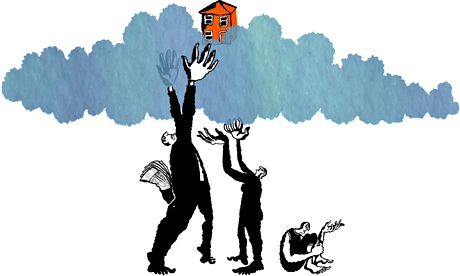 All in it together? Mark Simmonds, conservative MP for Boston and Skegness, has resigned, citing the intolerable pressure of trying to live in London on an MP's expenses. He wants his family to live in London, which is understandable. For this,
a rental allowance of £20,600
plus £2,425 for each child (he has three) is insufficient.
"Of course if MPs want to get into the business of travelling extensively from Westminster to the outer reaches of London to rent a flat then that's up to them,"
he told BBC Radio 4's World at One programme on Monday. "But that's not the lifestyle I want and it's not the lifestyle I have chosen for myself or I want for my family."
Here, he starts to become less sympathetic as a character.
He earns almost £90,000, and pays his wife up to £25,000 from his parliamentary office. He is on record as the most expensive MP in Lincolnshire, having claimed £173,000 in expenses in 2013.
He is also a vocal proponent of the benefit cap
, finding it disgusting that some families can claim more in benefits than the average person earns, even while he finds it intolerable that he can only claim in accommodation expenses
£2,000 more than the cap
. Every time some new detail emerges, his obnoxiousness swells like a mudbath, ready to break its banks. To wallow in it would be fun but sullying, and also obscures the fact that Simmonds has done us a favour.
To qualify to be a member of the top 1% in the UK, you need a total household income before tax of £160,000 a year. Simmonds, let's not forget, fell foul of the transparency rules in 2012 when he failed to declare his £50,000 salary from Circle Healthcare before he weighed into health debates in favour of privatisation.
So without even venturing into the territory of whether or not he's a disgrace to public life, we can assume that by a combination of "freelance" work and the benefits in kind that must surely accrue from his expenses, his household income probably puts him in the top 1%.
There is broad agreement now, whether you love equality or hate it, that the top 1% isn't really the story; the story is the top 0.1%.
Nevertheless, when a man in the top 1% who has his rent paid still can't afford to house his children in the capital, it is no longer a story about what kind of a person he is: this is a story about a broken system.
In central London, the only viable markets are the ones that are subsidised by the government – either by housing benefit or MPs' expenses – or the ones for the super-rich. In Westminster, where Simmonds wants to live, the average house price was £1.3m in June last year (prices have gone up by 6% since then). Two things are striking when you look for rental properties for a family with three children at Simmonds' cap of around £2,300 per month – as newspapers everywhere will spend this week doing.
What hits you first is
how few properties are available, only a handful on any website,
even if two of his children would be prepared to share a room (as children are required to do, incidentally, by the government's
bedroom tax
, which Simmonds voted for).
This is commensurate with the fact that central London has been largely bought up by investors who, at the higher price points, are just looking for a currency haven and leave their properties empty, having little interest in rental income (75% of new developments in central London are not open to the UK market).
Two main trends dominate the housing debate (though not noticeably in the Conservative party – they still think the answer to this madly inflated market is to keep it buoyed up with government money, via the
Help to Buy scheme
). There is broad agreement that this is a London problem and only bleating metropolitan elites are troubled by it.
In fact, the disparity between earnings and property prices spreads from Bristol in the west to Cambridge in the east; ultimately, the only places immune from a property boom will be those with no jobs, and that doesn't help anybody.
There is also the sudden unison that all we need to do is build more houses. If this just means throwing more money at private developers, for private buyers, with the proviso of a few social units that can be accessed through a pauper's entrance, that's not going to help.
The country needs houses that are owned by the government, not just so that it can stop the frivolity of housing benefit, but because a contractor isn't going to build the houses we need.
We have the technology to do something radical with housing. We could build flats that are not just carbon-neutral, but energy-neutral through solar power, and with their own food growing up the walls that everybody would bite your hand off to live in. The ghettoisation of social housing would be a thing of the past. These places may embody so much ambition and possibility that we could get over our obsession with whether or not we owned or part-owned or rented them (look at the vision of the Green Cities Foundation or the Future Cities Catapult).
We don't have to be stuck in this broken system, battling a faceless and impossible market with pleas for one that is fractionally better and marginally more accessible. We could be on the brink of building something together and, ironically, it could be
Simmonds, featherer of no nests but his own, who drove us to it.