The first step towards the solution is to appreciate the scale of the problem, something cricket still seems to be struggling to do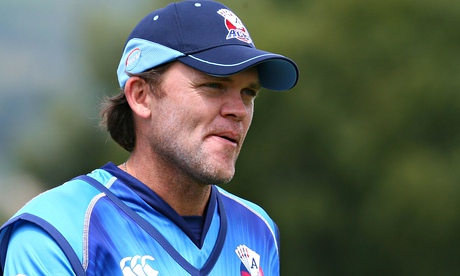 The sad truth is that the most recent spot-fixing revelations bring to mind nothing so much as Captain Renault's line as he shuts down Rick's Café in Casablanca: "I'm shocked, shocked, to find that gambling is going on in here." What was it, exactly, about the evidence accrued in recent years that fixing has been committed in international and domestic cricket across all three formats by a mix of players, umpires, and administrators from across the Test-playing nations that has left us so startled by the allegations made by Lou Vincent?
Was the guilt of Salman Butt, Mohammad Asif, Mohammad Amir, Mervyn Westfield, Shariful Haque, Gurunath Meiyappan, Danish Kaneria, the Sri Lankan umpires Sagara Gallage and Maurice de la Zilwa not all the confirmation that was needed? Were the approaches reported by Shane Watson, Mashrafe Mortaza, Paul Nixon and so many others insufficient proof? O
r is it that cricket, the community around the sport, is still in denial about the extent of the problem it is facing?
The allegations made by Vincent have, it is reported, been corroborated by at least three people, one a county player, another a friend in New Zealand, and the last involved in cricket but not as a player. Mal Loye, Brendon McCullum and Iain O'Brien have all said that they knew what Vincent was up to. Which rather begs the question as to why Vincent was allowed to go on playing top-level cricket for the Mid West Rhinos, Auckland, and the Khulna Royal Bengals long after he was trying to fix matches.
It is not just Vincent.
The Anti-Corruption and Security Unit says it is monitoring more than 100 individuals around the world who it suspects of involvement in fixing. Depressing and distressing as it is to admit, this means that if you have been watching a lot of cricket and you have not been wondering whether at least some of what you have seen may have been fixed, you are either wilfully innocent or unwittingly naive.
If that seems excessively cynical, then remember that
as Sir Humphrey had it
, that is only the label an idealist gives to a realist.
Time was when I would have thought differently. In the 2011 World Cup I was at Pallekele for a group match – almost a dead rubber – between New Zealand and Pakistan, which was illuminated by a spectacular century by Ross Taylor. It was all the more unexpected because he had been in such dismal form for so long, and had not scored a hundred in his last 48 ODI innings. This, though, was his lucky day. Kamran Akmal dropped him twice in his first full over at the crease. Thus reprieved, Taylor resolved to make the most of his good fortune and ground his way to 68 from 105 balls.
In the 46th over, bowled by Shoaib Akhtar, Taylor clicked. He hit a four past point, followed it with three sixes and another four. With two wides, the over cost 28. The 48th, bowled by Abdul Razzaq, was dearer still. It went for 30, and again there were a couple more wides in among it all. Taylor hit 62 off the final 16 deliveries he faced and, together with Nathan McCullum and Jacob Oram, scored 114 runs in the last six overs of the innings.
Startled journalists, long since snapped out of the torpor induced by the stifling heat, turned to each other, incredulous, exhilarated. And then an email arrived in my inbox, sent by a colleague who is not especially keen on cricket but who has an excellent eye for a news story. It said, simply, "Do we think this is legit?"
Pop. A pinprick to a party balloon. It had not even occurred to me to ask whether I was watching anything other than wonderful batting against some woeful bowling. The elation I felt seeped away and, in my irritation, I snapped back a short reply. The thing is, though I did not admit it at the time, he was right to ask. Only six months before, three Pakistan players had been caught spot-fixing in the Lord's Test. Rumours, unsubstantiated, still swirled around some of their players. I knew all that, but in the excitement of the moment l preferred to suspend my disbelief, which is, after all, what we want to do when watching sport. I was thrilled by the fact that what I had seen seemed almost unbelievable. My colleague was only suggesting that it might be exactly that.
There is no evidence to suggest that any aspect of that match between Pakistan and New Zealand, least of all Taylor's performance, was fixed. But the unpalatable question put to me is one that those of us who love cricket should be asking ourselves, and each other, far more often than we tend to do. Especially when you think that the sport we support has such a long history of fixing and cheating, and that, as Ian Chappell has just written, its administrators have so often sought to soft-soap the offences have come to light.
Later in 2011, I switched across to cover the athletics circuit in the run-up to the 2012 Olympics. The small band of British athletics writers are a convivial lot but as sceptical as any group I'd ever worked with. And understandably so. Some of them had been on the beat since the early 1980s and, until Usain Bolt, of seven winners over nearly 30 years of men's 100 metres finals only Donovan Bailey, successful in 1996, made it to retirement without his medal getting at least figuratively tarnished. A lifetime spent lionising athletes who are later found to have cheated is enough to disabuse even the most misty-eyed of us of our romantic notions.
On the athletics circuit, I learned, when something is celebrated as being too good to be true, the first thing to ask is, in private, if not in public, is whether it really is. Bitter experience means fans and journalists feel compelled to ask awkward questions. Similar thinking informed the remarks made by the US swim coach John Leonard about the Chinese swimmer Ye Shiwen during the London Olympics. Leonard remembered the 1976 Olympics, when the East German women's team, who were later found to have been doping, swept the swimming events. He had his suspicions, but said nothing about them, and regretted his silence ever after. So he decided that the next time he had misgivings about a performance, he would speak out about his doubts, which turned out to be unfounded.
Switch back to cricket, where there seems to be a striking lack of such scepticism – partly because the offences can be so subtle, and so similar to the inadvertent actions of innocent players. But even the more ham-fisted examples, like Amir's infamous no-ball in the Lord's Test of 2010, seem to provoke little suspicion. Amir was, as Cricinfo's ball-by-ball commentator put it at the time, "a good half metre over the line". Cricket fans, journalists too, simply weren't, and perhaps still aren't, attuned to the possibility that a player may be cheating. Sequences of no-balls, strikingly soft dismissals, sudden de-accelerations in the scoring rate, incongruously stodgy batting, these things should all raise red flags. Was a player involved in the ICL, or one of the teams implicated in fixing in the BPL, IPL, or county cricket? Are there whispers about him on the circuit? Is the match being televised in India? Are there curious betting patterns around the match online? Combinations of these criteria make it reasonable to ask "is this legit?" even if, as is likely, you do not know the answer.
The trouble is, of course, that you risk being paralysed by a paranoia that prevents you from being able to enjoy the sport. The idea that spectators and media will be forced to think this way is anathema to the authorities. The alternative, what they would have us do, is choose to believe wholeheartedly in what we see and leave them to make their investigations. These would be the same authorities, in the ICC's case, who are about to appoint N Srinivasan as chairman even though he has been suspended from the BCCI by the supreme court of India while investigations are held into his conduct regarding allegations of spot-fixing in relation to his son-in-law and involving the team he owns, the Chennai Super Kings.
As is so often the case, the first step towards the solution is to confront the magnitude of the problem, something cricket still seems to be struggling to do.