5:30 AM Saturday Dec 7, 2013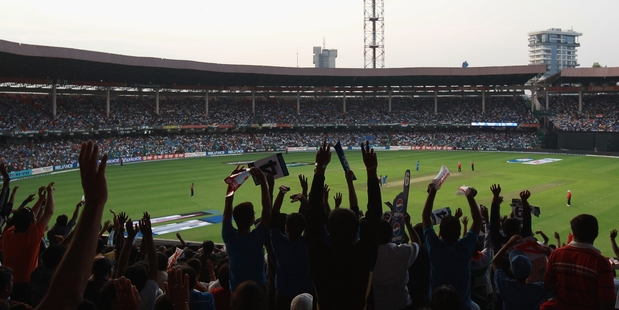 Matches are difficult to fix as a whole, so spot-fixing is more common. Photo / Getty Images
1. The system works best through the illegal betting markets of the Indian sub-continent, which operate a money credit system so there is no paper trail.
2. The Indian gambling system generally offers four markets: match odds, innings runs, brackets (which are runs scored in a certain number of overs such as 11-20) and lunch favourite (betting that a team will go on to win after lunch in a test or the innings break in a limited overs match). This shreds the theory anyone would take a bet, for example, that the third ball of a random over would be a no-ball.
3. Captains, opening batsmen and opening bowlers are ideal targets for match-fixers. Openers of either discipline are guaranteed to be involved at the start of an innings (and therefore in brackets of overs), and captains dictate fielding positions.
4. Watch out for odd fielding positions - the sort commentators might generously refer to as "bold" - such as long on, long off, third man or fine leg being brought into the circle outside powerplay overs.
5. While No 2 indicates a restriction on possible bets, players might be paid by a fixer to perform a deliberate act on a certain ball to show bookmakers they are under a fixer's control. An example is the 2010 Pakistani no-ball scandal at Lord's.
6. Players can be targeted in casual conversations by fixers for information on the pitch and expected conditions. That can help with bets on innings runs and brackets. Team selections can also be of "casual" interest from fixers posing as fans.
7. Players can be coerced into links with bookmakers through anything from "new bat deals" to honeytraps, where they may be caught in compromising situations. Whatever the lure, evidence is often recorded for blackmail purposes.
8. Matches are difficult to fix as a whole, so spot-fixing is more common. A specific number of overs, coinciding with a bracket, will be targeted.
9. A "bhao" line is established for matches. It involves someone sitting in a hotel room delivering odds into a microphone attached to phone lines. The location changes so fixers cannot be tracked. Punters ring and decide whether to bet on the odds which are broadcast live during the match.
10.

The "hawala" transaction system is commonly used on the subcontinent. Under this, no money moves physically between locations; it is transferred by a telephone call or fax between countries. No legal contracts are involved, and, according to the

Economist, recipients are given only a code number or simple token, such as a low-value banknote torn in half, to prove money is due. Over time, transactions in opposite directions cancel each other out, minimising the need for movement. If an imbalance develops, cash or jewellery are carried across borders, trade invoices are adjusted, or conventional banks are used. Ironically, the system is built on trust between bookmakers and fixers.