Ashes 2013-14: Ian Bell leads way in handling Mitchell Johnson barrage
Mitchell Johnson evoked memories of the West Indian attack of the late Seventies, and England need to learn from Ian Bell's example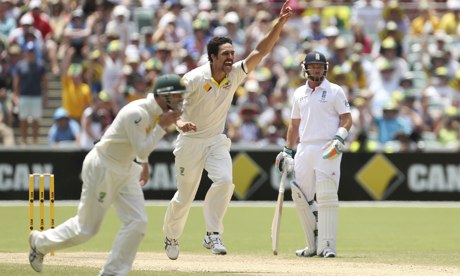 It is often said by those that experienced it that the toughest most uncompromising cricket ever played came not in official Test matches, but in the no-holds-barred World Series Cricket. And it is further said that the most uncompromising of the uncompromising came not on the drop-in pitches of the Sydney Showground but in 1979 in the Caribbean, when WSC toured and played Super Tests. This was bare-knuckle cricket, jeux very sans frontieres, where the MCC equivalent of the Queensberry Rules, or even the Geneva Convention, were for cissies.
The pitches were hard and fast, there was no restriction on short-pitched bowling and in Michael Holding, Andy Roberts, Colin Croft, Joel Garner and Wayne Daniel, West Indies possessed a fighting machine to rival any in the game's history.
It was in the five matches of this competitive furnace that Greg Chappell, already a giant of the game, forged his greatest batting feats. It began quietly in Jamaica, with 6 and 20. But Bridgetown brought 45 and 90; Trinidad 7 and 150; Guyana 113 in his only innings; and finally Antigua 104 and 85 before Clive Lloyd ran him out. A total of 621 runs in the series at an average of 69. No one, legend has it, has played unrestricted fast bowling with such authority.
While
Mitchell Johnson
was laying waste the England batting at the Gabba and Adelaide Oval, it was hard to not think of this. I talked to him once about it and beyond the physical courage required, his rationale, the game plan that he employed, was fascinating.
Twelve overs an hour, he said, is what you received from the fast bowlers and of those 72 deliveries, two thirds, or four balls of every over, would be going at great velocity past his nose. That left 24 balls an hour of which it was reasonable to assume his batting partner would get half. So twelve deliveries then with scoring potential, of which half he reckoned he would be defending. In other words, there were six deliveries from which he knew he needed to score and which he further rationalised, would be pitched up. "I was looking to come forward," he has said, "to drive. It was the percentage shot." All of which sounds counter-intuitive when placed alongside the more obvious back foot technique to allow more time to play the ball.
Whatever they may say, no one relishes facing extreme pace, and few have bowled faster than Johnson is currently managing. At times already in the series, the England top order batting has coped with him: Michael Carberry has done so twice, by letting the ball go in Brisbane and by lining him up from back in the crease in Adelaide; Alastair Cook was watchful in the second innings in Brisbane; and after his usual frenetic start, Kevin Pietersen just looked comfortable in the second innings at the Gabba until the second of three totally indiscreet shots in as many innings did for him unnecessarily. Johnson's real success, certainly in Adelaide, has come in blowing away the lower order. How would these batsmen cope with an incessant barrage such as Chappell received?
Ian Bell
though, now there is a player. Here is a strange thing. Back in the days before helmets, when, say, Tommo and Lillee were terrorising England, and the high velocity short ball was a common currency, the number of batsmen who were actually hit, on the head specifically, was remarkably few, certainly compared with these days when scarcely a day goes by without someone "getting one on the lid" and invariably trotting a gentle leg-bye for their troubles.
There is a good reason for this. Short of a crack on the head, little was to be gained by taking eyes from the ball and turning away. Instead there were two options, aside from taking on the short ball and hooking or pulling: either watch the ball and duck under; or drop the hands out of harm's way first and foremost, and then sway back to let the ball pass by. Photographs of the ball passing a batsman's nose show excellent judgment on the part of the player rather than a close call.
Bell plays as if a batsman from a bygone era. In the second innings in Brisbane,
he swayed back to avoid the short ball like a reed bending in the wind. He does not attempt the legside cross bat shots, but keeps a square cut in his locker just in case. As with Chappell, he looks to get forward if he can (
there has been more opportunity offered on this pitch than the Gabba, and more, you can bet, than will be going at the Waca next week too). There is an unflustered calmness to him as well, as if he sees the ball in a slow motion dimension unavailable to others.
Just for a period, when Monty Panesar was showing a technique and fortitude that had proved elusive to those better qualified, there was the possibility that he might be able to engineer a remarkable century. He had stormed past his half-century by lofting Ryan Harris down the ground and now square cut him witheringly, clipped him to fine leg for four more and finished the most productive over of the match by lofting him elegantly into the crowd at deep extra cover. When Johnson, brought back for the coup de grace, pitched short, he leaned back and clipped the ball precisely over the slip cordon. These were the strokes of a man in control, a counterpoint to his teammates. An object lesson.